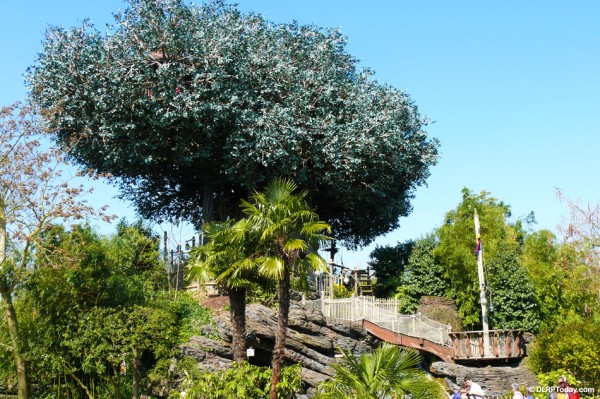 So maybe we will get to live like the Swiss Family Robinson again this year after all. Disneyland Paris sent out a tweet from its official Twitter accounts yesterday stating that the mysterious treehouse closure is merely a "refurbishment" and that they expect it to reopen in December. The message read:
"To answer many of you, La Cabane des Robinson is actually closed for refurbishment. We expect it to be reopened in december."
This comes after La Cabane des Robinson has remained shuttered for the entire summer, said to have been closed in the wake of an incident at Big Thunder Mountain. Entrances to the elevated walkthrough high above Adventureland have been blocked by construction walls but no sightings of active refurbishment work have been reported from the site in all these months.
Household scenes throughout the tree were repaired and redressed in 2009 with fresh props and a concerted effort has been maintained since to keep things looking tidy, but the attraction has long required a more dramatic overhaul to bring it back to the full glory of its intended design. Beyond replacing roof thatching and repairing the wooden walkways, there are the hundreds of faux vinyl leaves which have fallen to the ground over the years, leaving gaps and removing colour from what should be a luscious, vibrant "Disneyodendron semperflorens grandis". And then there's that fascinating irrigation system: a network of channels, pulleys and buckets which is supposed to lift water out of the bubbling brook on which the tree has grown and up into its branches for the shipwrecked inhabitants. Needless to say, it hasn't for many years. No wonder some people don't see the wonder in this tree.
The treehouse has felt deserted by maintenance budgets for years. It's about time the Swiss Family Robinson were given the money to move back in.