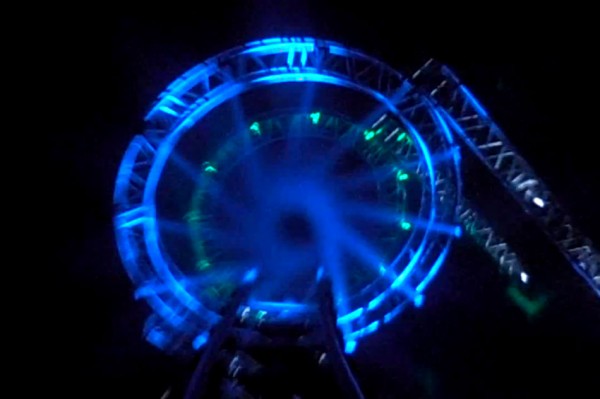 The new "light show" at Rock 'n' Roller Coaster starring Aerosmith has gone live with state-of-the-art equipment, but it's actually light shows — plural — that we get to experience on the Backlot attraction: five of them, one for each "SoundTracker" train. Now, brought to our attention by Alan, another has hit YouTube courtesy of Deanrell and is even more impressive to behold than the multicoloured affair we previously saw for SoundTracker 3's "Love in an Elevator" and "Walk this Way". This show, for SoundTracker 1's soundtrack of "Back in the Saddle" and "Dude Looks Like a Lady", uses a blue and green theme and adds a particularly cool new effect, pictured above.
Now we know what the Imagineers meant when they told us to look out for "surprises" on the trusses the ride swoops around: When SoundTracker 1 nears the huge circular truss, a circle of 12 manoeuvrable lights form a ring like a camera shutter which "opens" just in time for the train to fly through! All through the ride, from start to finish, the lights are blinding, disorientating… and seriously rocking. It's the rock comeback we've all been waiting for.
Video by Deanrell on YouTube follows…
Note: Filming videos is normally prohibited at Rock 'n' Roller Coaster starring Aerosmith for safety reasons, so we don't suggest you try this on your next ride.