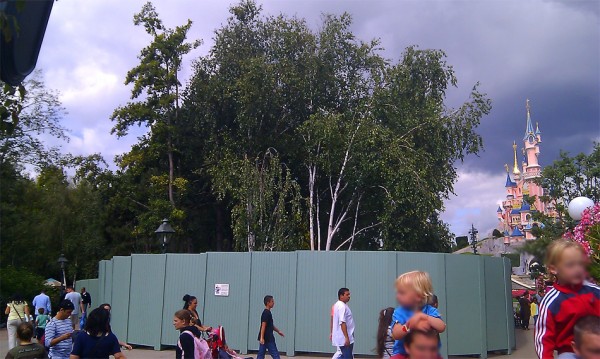 When Disneyland Paris opened on 12th April 1992, the greenery of this luscious Disney park had been given less than five years to bed in on this previously rather barren expanse of Marne-la-Vallée. Now, after almost 20 years, it looks like it actually requires a little pruning. At least, that could be the first thought when fences went up around a block of greenery just off Central Plaza on 29th August. All the trees in this patch next to the terrace of Casey's Corner had been marked for removal and, sure enough, just two days later a whole new vista was opened up…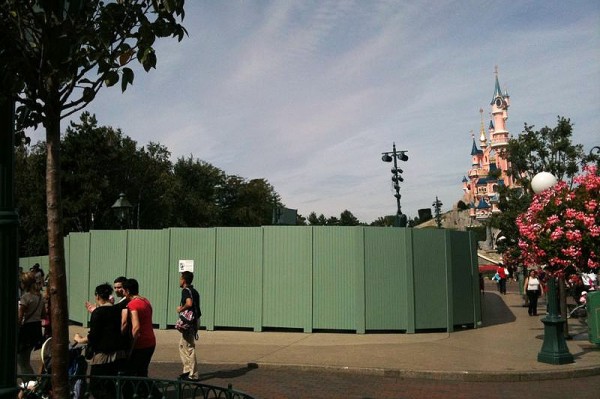 Trees are frequently replanted in Disney parks when they outgrow their surroundings, to maintain the correct scale with the forced-perspective buildings around them. But is that the entire story here? Along with the foliage updates, @InsideDLParis on Twitter has been charting a number of other interesting works going on around the hub of Disneyland Park. In particular, bright yellow ramps covering up works to the floor, seen below.
What's interesting here is that, from left to right, the work leads a trail all the way from this freshly-pruned patch across the entrances of Frontierland and Adventureland, seemingly leading all the way to the Castle moat. And today, more holes have appeared (photo) on the other side of the plaza, on the pavement nearest to Plaza Gardens Restaurant, seemingly leading into the planter behind the Central Plaza Stage's show control booth.
We've marked all the works on the map below, showing the felled area in red and the trail of temporary ground works in yellow. What do you think — are plans already going into action for next year's rumoured new nighttime spectacular?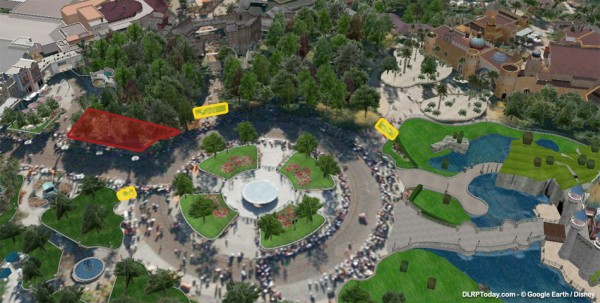 It seems like a good moment to get up-to-date on those plans, anyway. Launching as the main event of the 20th Anniversary next April, we're expecting a big and bold new evening show to take over this entire area. A real signature event for the park, combining water with projections, lighting effects and pyrotechnics. Possibly even live "show" elements on or around the central stage.
With noisy old-fashioned fireworks causing problems with local villages and no money for a vast Fantasmic-style arena, Disneyland Paris has always been a bit of a party pooper with its nighttime entertainment. Now, after 20 years, it looks like Disneyland Paris management at last want to give a day in their park a real grand finale. That is, after all, one of the key draws of every other Disney park.
This wouldn't be a nighttime event that simply runs along the parade route or launches a few fizzles into the sky above Sleeping Beauty Castle. It would, for all intents and purposes, be our World of Color: Those "fountains" we saw testing are likely to actually be the same kind of huge water screens used in that Disney California Adventure show-stopper, throwing plumes of water up from the moat with projections of Disney characters. This will be something that attempts to envelop this whole area of the park in a colourful, dazzling, immersive experience. Something you can only truly see for yourself, in reality, not filmed on YouTube.
Finally, a big finale is all well and good, but not if it has to happen during daylight (remember the not-so- "illuminating" Candleabration of the 15th Anniversary?) So here's a real show-stopping rumour: longer park opening hours, throughout the year.
Disneyland Paris has been a beauty of a Disney park for 20 years. In 2012, it will start acting like one.