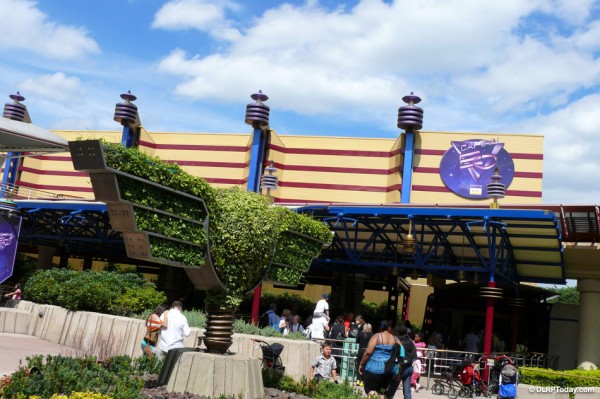 Is Disneyland Paris beginning to wind down its Captain EO encore? A quick look at the latest Closure & Refurbishment dates for the parks now shows the Discoveryland attraction marked as closed on weekdays for the first three weeks of October: 3rd to 7th, 10th to 14th and 17th to 21st. Those infamous yellow 3-D glasses were also kept out of guests' hands last week, when EO closed from Monday 19th to Friday 23rd September, suggesting that — rather than simple refurbishment as first expected — a new "peak days only" operating programme could be coming into force.
Michael Jackson and George Lucas fans have already had to contend with some very limited hours for the 3-D theatre show this year, with the first performance of the day held back until 11am and a closing time set far short of the rest of the park at around 5 or 6pm. The return has always been on an indefinite run, but if you're a particular fan of this "rag-tag band lead by the infamous Captain EO", you might want to catch an encore next time you can, just in case.
Captain EO returned to all its original locations at Disneyland in California, Epcot in Florida, Tokyo Disneyland and Disneyland Park in Paris last year. Though originally confirmed as "not returning" in the Backstage magazine for Cast Members, it ended up reopening in Paris a month ahead of the other international parks on 12th June 2010. This was still some way behind the February opening of the "Tribute" show in California, and though the relaunch garnered some initial publicity it is clear there has been only muted excitement for Jackson's return to Disneyland Paris among regular guests. With no replacement yet in sight for the other parks, Discoveryland faces having a high-capacity theatre shuttered for much of the time — all the while, right next door to an out-of-date Star Tours.