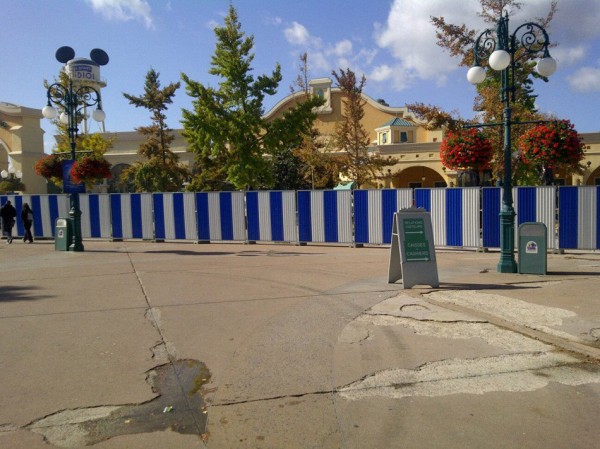 2011 Refurbishments — We use the word "finally" a lot around these parts, probably too much. But in this case, it's entirely justified. The right-hand side of the Walt Disney Studios Park entrance plaza, which for years now has looked like an extended piece of Armageddon themeing, has just been surrounded by fences ready for repaving to finally begin. About time! Disney Central Plaza posted the above photo on their Facebook page, showing the initial area to be closed off. Hopefully those fences will continue to move about the entrance area to replace all those cracks in the foreground — and out of shot — with the same high-quality paving stones used in the initial phase of the entrance repaving.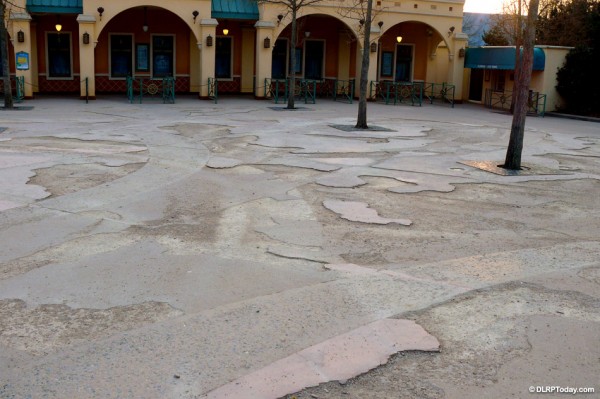 This will conclude a repaving project at the entrance to the park that was begun way back in 2007 but never finished, when the original (and it seems, poorly laid) concrete searchlights and stars emitting from the entrance gates were relaid using proper stone paving. This only ever replaced the left-hand side of the entrance, though, leaving the pathway between the two parks (arguably one of the most important in the resort) to crumble away. The ground around the ticket desks meanwhile became a sea of craters — each fragment of eroded concrete another reminder of frivolous early 2000s cost-cutting.
We were promised a repaving project by Paris Imagineering head Peggie Fariss back in March (also the date of the photo above), but it appears we had to wait for the conclusion of several repaving projects in Fantasyland and not least the end of the busy Summer season for it to finally begin.
Well, they say first impressions mean everything…