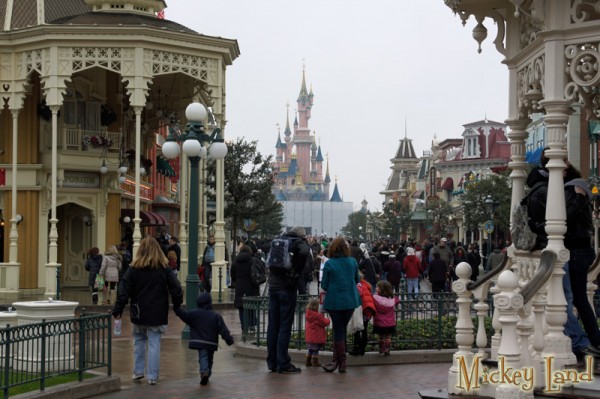 Here's the view guests saw this weekend as they stepped into Disneyland Park. New Disney fan blog Mickey Land has the latest photos of the Sleeping Beauty Castle refurbishment, showing the scaffolding which we last saw surrounding the landmark's lower walls has now spread right up to its iconic stained glass picture window. The first step towards hiding the less than magical works has also taken place, with an initial white tarpaulin stretched over the majority of the scaffolding, as is normal with Disney refurbishments. Rumours are suggesting that the second covering, featuring a photo-realistic image of the castle behind, could appear within the next week.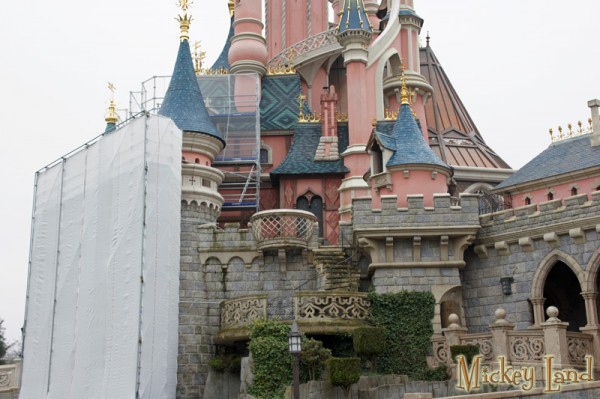 Meanwhile, Disneyland Paris continues to invest elsewhere in Fantasyland with the new stone paving going in along the walkway behind Le Théâtre du Château. The red-hued stones stopped with a circular finish at the Fantasyland Gate, leaving fans wondering if the rest of the route could be relaid with coloured concrete as before.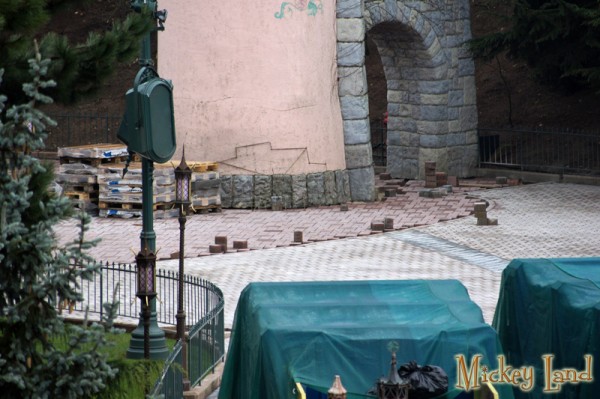 But, as you can see, the stones look set to continue into the land — albeit with the pattern set at a different angle, the circular design helping to make more of a feature of the gate, which will itself surely be fully repainted sometime this year as part of the Castle refurbishment.