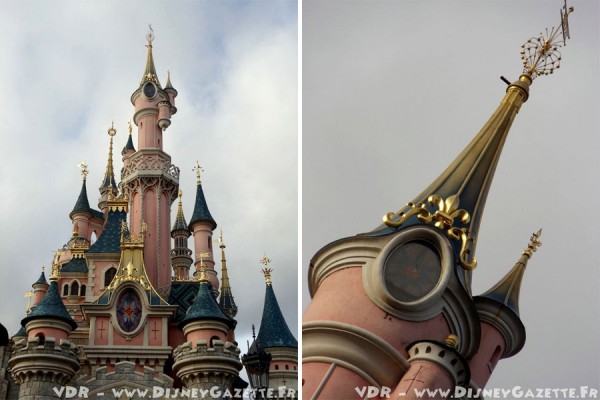 Time stands still in Never Land, and for a good few years the same applied to our dear Château. But as a major refurbishment project approaches, the oversized golden Tinkerbell, which has sat atop the castle's highest tower since the launch of the 15th Anniversary in April 2007, has finally flown away for good! Originally part of a collection of golden characters, holding between them 15 flickering LED candles, Tinkerbell was kept on after the two anniversary years as part of the unpopular Mickey's Magical Party overlay. Even as we rejoiced that the castle returned to some normality last year, she hung on; the park still utilising her confetti effect for various shows and events.
As DisneyGazette says, "a page is turned", and though the original 15th Anniversary makeover was really quite beautiful, hopefully a little more care will be taken in future to ensure Le Château de la Belle au Bois Dormant looks at her best — as the Imagineers designed her — with any temporary overlays not left to linger for up to four years.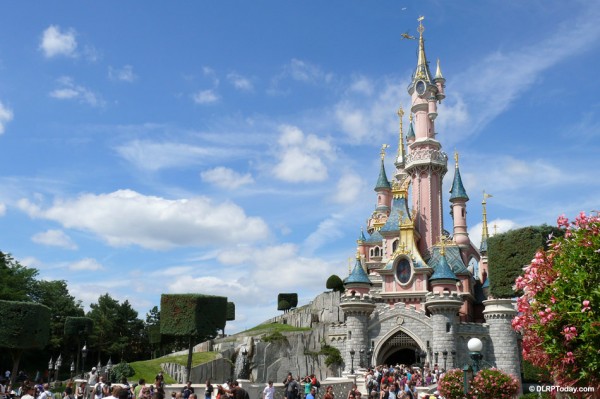 It was actually before the 15th Anniversary that many fans began to hope for a refurbishment of the castle. Though the opportunity of that landmark (and each successive festival) passed, it's now confirmed that this will be the year for a reawakening. Dates were provisionally set for works from October 2010 to July this year, but that has now been pushed back to a March 2011 start with an end sometime in September. No word yet on just how disruptive this refurbishment will be for views of the icon — a scaffolding rig (with a themed overlay) will be likely at some point, but whether it would cover just a potion of the castle at once or the whole thing is unknown.
From afar the castle certainly looks clean and pretty enough, but up close turrets can be seen dirty, roofs discoloured, paint peeling… and many fans wish for a return to its original paintwork, which had an earthier, more historic look, with more shading and a more organic pink colour.