Fret over getting that perfect picture in front of Le Château no more — the bridge has reopened after a major two month rebuilding project, looking cleaned to fairytale perfection: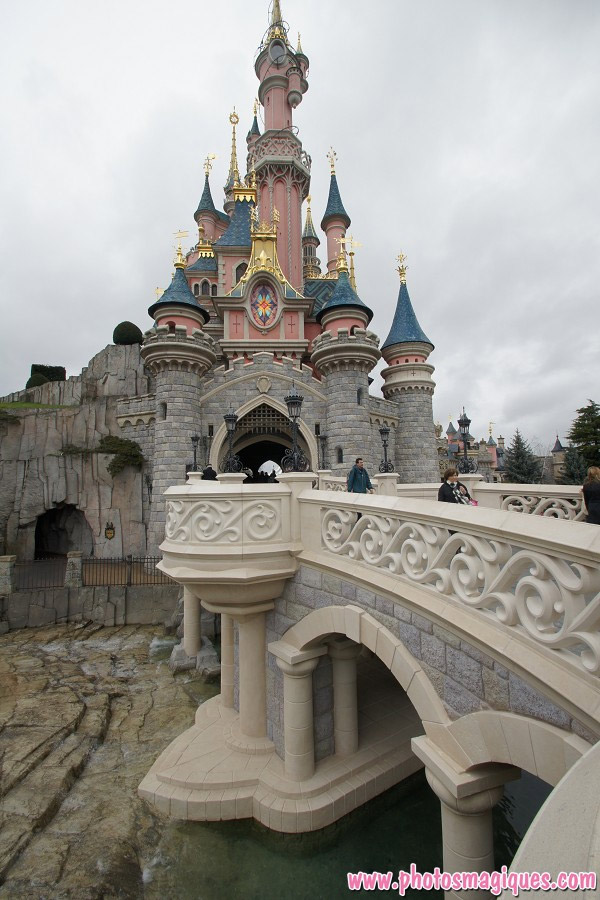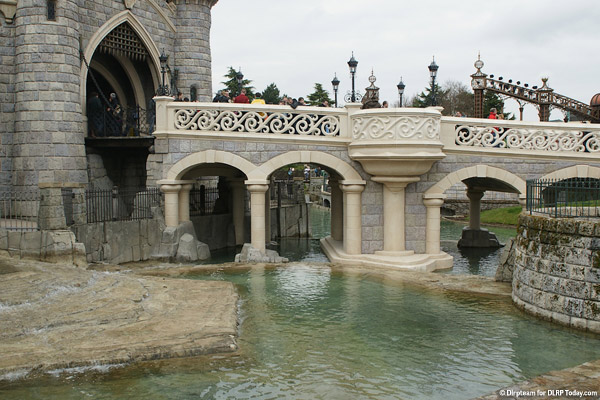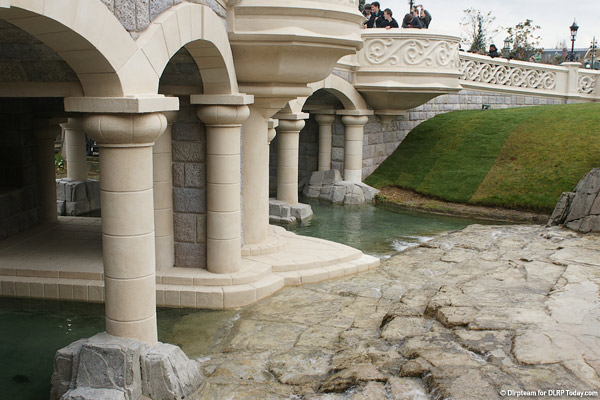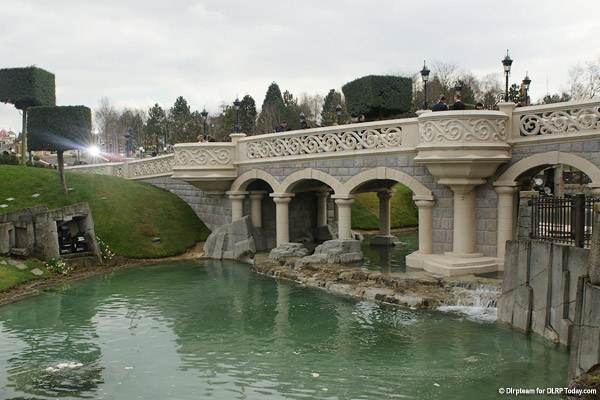 So clean, so crisp, in fact, that the castle behind looks even grubbier than it did before.
The project apparently included the complete rewiring of all the lights along the bridge, and as the scaffolding disappeared a couple of weeks ago now, the main window of the castle even had a nice surprise for us.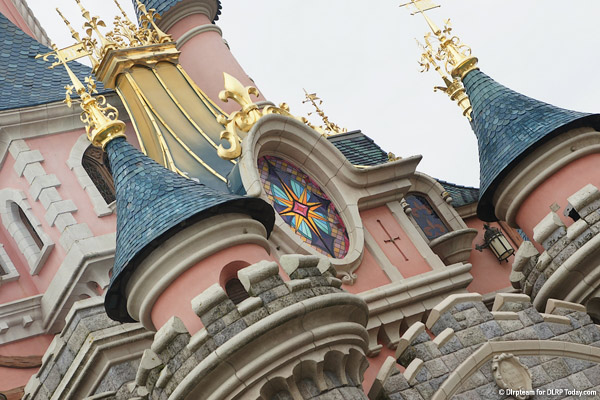 As if just being able to see it again after three years wasn't good enough, the light behind its stained-glass design appears to have been tweaked to give a brighter, more even illumination, bringing out the beautiful colours right throughout the day. A big improvement on the patchy single spotlight before.
Back in Main Street U.S.A., Town Square Photography now has its decorative refurbishment overlay in place: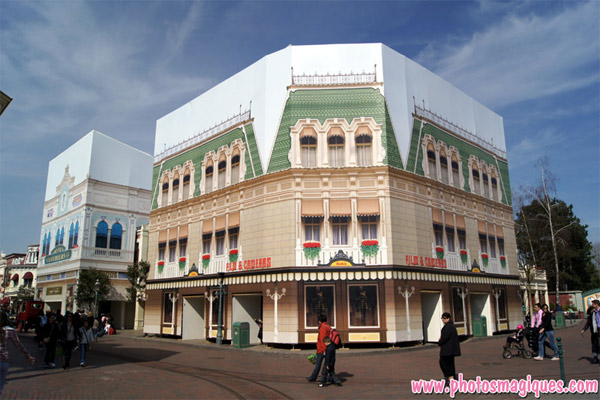 We're already a month into this work, and there's still a long time to go. The refurbishment of Town Square Photography is set to be completed on 2nd July, whilst the smaller Disney Clothiers, Ltd. restoration just along the street, which had almost a month head start, will be done by 18th June 2010.
Over in Fantasyland, this could be bad timing to catch those visitors whose interest has been reawakened by Tim Burton's 3-D adaptation, but Mad Hatter's Tea Cups is currently closed from 6th to 23rd April for a much-needed full refurbishment.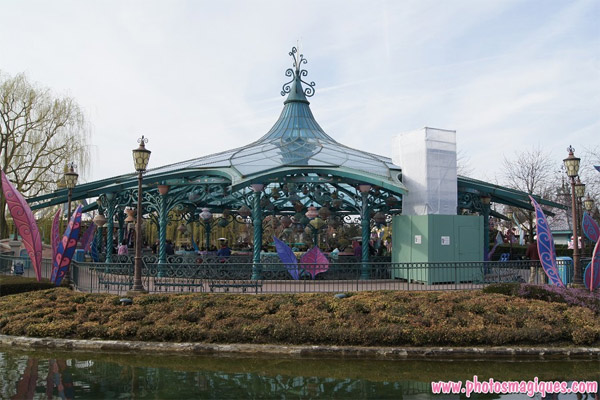 Work should include repainting or resurfacing the turntable, which has been lacking its original bright colours for years, as well as cleaning the roof, repainting and replacing the lights and lanterns, along with other maintenance. The work was originally announced by Disneyland Paris to end on 2nd April, so this appears to have been pushed back.
Not strictly a refurbishment, since this is potentially something we'll never seen returned — the Rainforest Cafe signage on the side of the building, next to where the brand new Earl of Sandwich counter service restaurant is due to be built, has disappeared: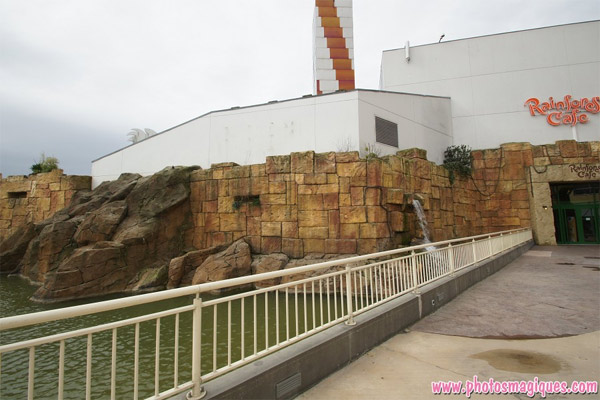 After the concept art was published last year, temporary construction walls surrounded this railing a couple of months ago for a few days — only to suddenly disappear again. When construction does finally begin, there will need to be some serious infilling of this area of the lagoon, along with deconstruction of some of the rockwork seen above.
And finally… A real delight that has returned, after a lengthy absence, the Main Street Station organ: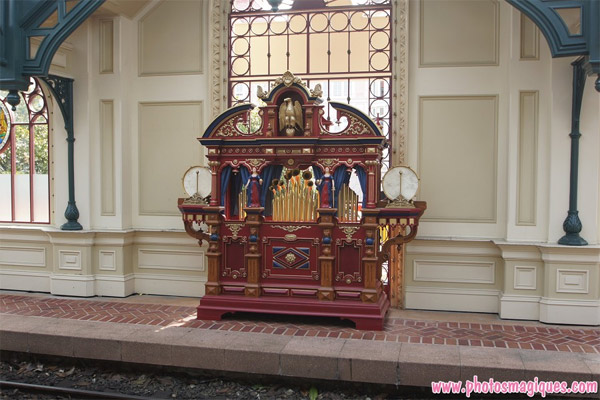 Not only does it look all freshly-polished, the organ (via recorded sound effects) once again greets each arriving Disneyland Railroad train as it steams through the station, bringing back a missing piece of the Main Street's original turn-of-the-century atmosphere.
Photos by Photos Magiques (more), Dlrpteam as credited.