Disney's World of Color might be coming to Walt Disney Studios Park.
Do you need a minute to check the date? Ok, see — it's not April 1st.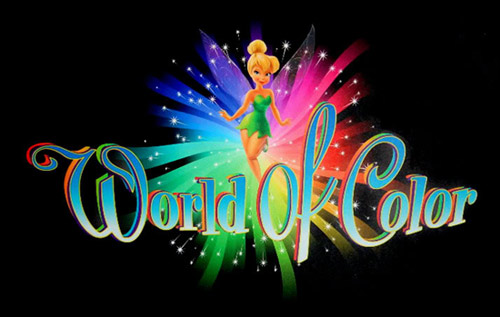 The gigantic, multi-mullion dollar nighttime lagoon show is currently on course to première this year in Paradise Bay at Disney's California Adventure (DCA), the second park at Disneyland Resort in California, as part of its much-heralded rebirth. If you don't know the full story, this park opened just a year before Walt Disney Studios, in 2001, and suffered from the similar lack of funding and lack of Disney finesse.
But, unlike our dear Studios, Disney have long given up on a piecemeal approach to fixing the disastrous second gate and have thrown themselves (with perhaps more than a little pushing from John Lasseter and co) head first into a billion-dollar expansion and improvement programme. Check out the website here, if you'd like to be jealous.
Now back to Paris.
Though it appears DCA is getting all the luck with its $1bn investment, that doesn't mean Walt Disney Imagineering haven't also been planning the future of our second gate. Drawing up plans, throwing around ideas. Thinking about the future way, way ahead of Toy Story Playland and the Ratatouille dark ride; to a time where the Studio Tram Tour route would finally be thrown aside and the park allowed to expand outwards, along an extended Hollywood Boulevard.
And what would be at the end of the new boulevard, according the latest proposals from a few years ago? A lake. Yes, water! In Walt Disney Studios Park! It's a fan's dream come true, finally a body of water in the parched concrete kingdom of the Studios.
But this wouldn't just be any body of water. Though the talk of a lake or large area of water in the park has recently, and very quietly, turned from the dream of fans to something actually on the drawing board, no-one guessed what the Imagineers might use such an asset for.
Well, who'd have put World of Color together with Walt Disney Studios? But according to a recent blog post by Alain Littaye, that's exactly what WDI and Euro Disney SCA are pondering for the future. At the end of this grand, extended Hollywood Boulevard, leading right up past the current service road, the body of water wouldn't just sit there being all watery, it would become a giant nighttime spectacular — the first of its kind at Disneyland Paris.
Don't head to the park this year — or perhaps even most of this decade — looking for something like that, though. This is a truly long-term project, major long-term. Alain says "don't expect it before 2015", but even that seems incredibly generous unless the proposals have since been rejigged to put the lagoon closer to the heart of the park.
Because, to get to the point where even just this lagoon, bay and stadium — yes, unlike DCA there'd be proper seating — are ready to be built, the park would have to expand right the way back, along the full length of the forest. That's a major expansion and investment programme even before you get to the frightening cost of the lagoon itself.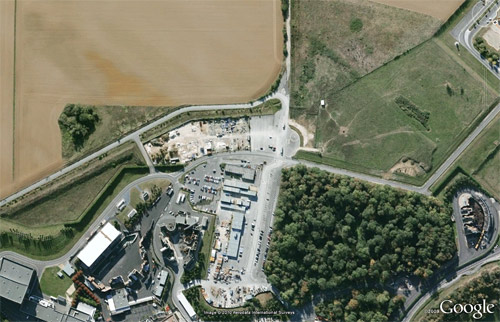 There's a chance that by the time Walt Disney Studios Park is ready for this, World of Color might not seem so exciting. Plus as Alain points out, the people involved in these decisions at Disneyland Paris will also need to look in-depth at how it actually turns out. With the show still under preparation, they'll want to know the full cost of daily performances, maintenance and of course, guest reaction, before it gets anywhere near Paris.
Although it seems like the odds are stacked against Paris for this one as we currently stand, a "nighttime spectacular" is certainly a very real aspiration for the resort. Not only would it extend guests' visit to either park, prompting more nights in Disney Hotels, it would finally give the resort, well, exactly that — a real nighttime spectacular.
Being so constrained with firework shows due to nearby villages, a show involving comparably quiet fountains and pyrotechnic effects is the perfect solution. The parks would have a draw and a reason to open later for more of the year. And, if you've ever visited Versailles or Futuroscope, you'll know that the locals are already very familiar with the format. They have expectations just waiting to be blown away.
…If they can wait 5, 10 or 15 years.
Images © Disney/Google Earth.