Last Chance Café, sandwiched between The Lucky Nugget Saloon and Silver Spur Steakhouse, is undoubtedly one of the less reputable establishments of Thunder Mesa town. The last place were hardy cowboys would stop before setting out on cattle trails, its walls plastered with "Wanted" posters rather than wallpaper, a remnant of the wilder West which is slowly being outlawed as we arrive in Frontierland.
But, when it decided to open up a new terrace in the second half of 2009, fans were initially pleased and then suddenly… disappointed. Whilst the idea makes a lot of sense (providing sheltered seating so it can open for more of the year) and the execution is even surprisingly thorough (countless Western props hanging in the roof space), the wider picture doesn't quite fit.
The least successful view of the extension is what you see below. Though the new entrance has now been "plussed" further with some very in-keeping lamps, the flat frontage simply looks wrong compared to its neighbours — and what was there before. Compare the detail and "weight" of the original façade, at the back, with the very "flatpack", cheaper look of the extension. The maroon edges lack the fine detail and the wood panelling appears thin and unweathered.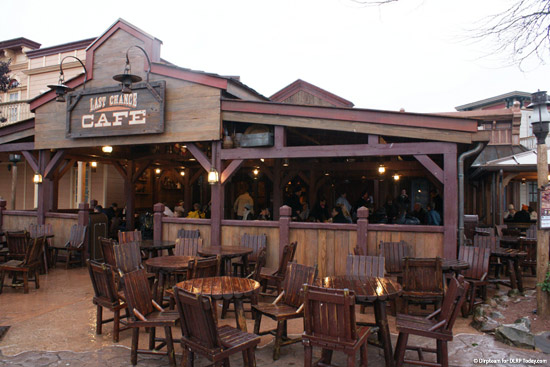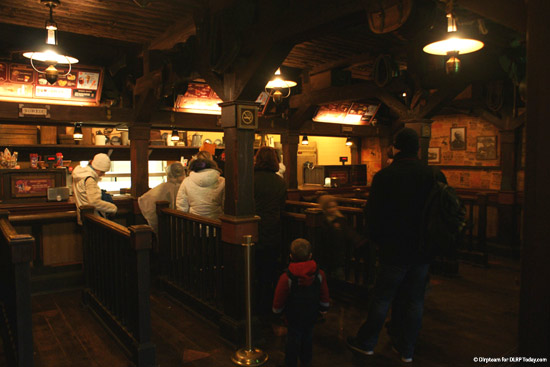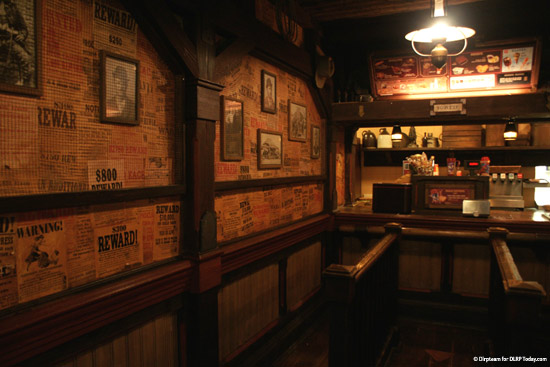 The original 1992 take-away counter area remains unchanged.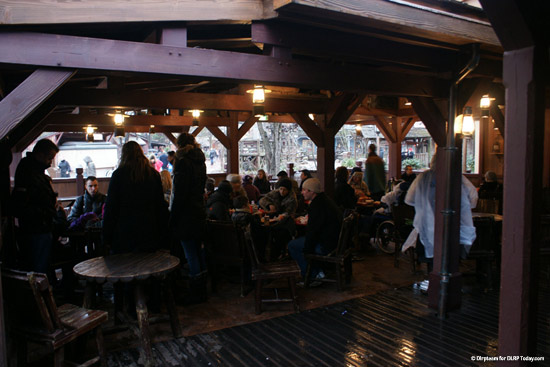 The new terrace in a cold and wet Wild West
Even Alain Littaye offered a critique, which hit the problem spot on:
"But if you look well at this new terrace – and although they put props inside – it doesn't look like a building which would have grown "organically" out of the buildings right behind it. There is a story with each Thunder Mesa building whether it's an attraction or a restaurant or a shop. Thunder Mesa is supposed to be a real town and although most of the guests don't know the stories (unfortunately) they can feel the "logic behind"."
Alain went on to criticise the props and decoration of the terrace, which yes, whilst all well within the Western style, were lacking in personality. Saddles, ponchos, guns, bottles… all in-keeping with the theme but not exactly pushing it forward, developing the story.
But then, a week or so ago, something — or perhaps, someone — rolled into town to remedy our concerns, a classic bit of Disney plussing and storytelling in action: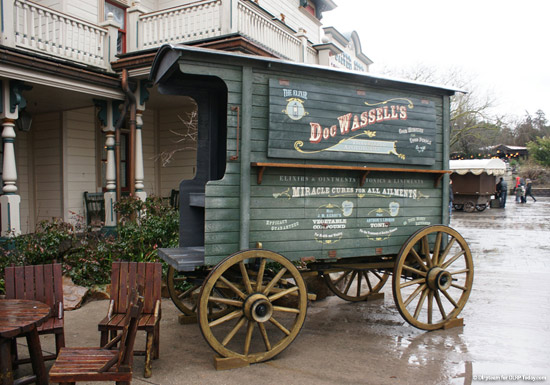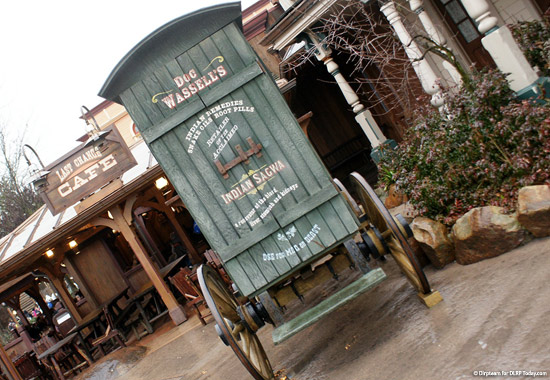 "Doc Wassell's Travelling Apothecary — Miracle Cures for All Ailments" reads this freshly-painted wagon, positioned between Last Chance Café and Silver Spur.
Insider RiverRogue on magicforum confirmed that the wagon is part of the extension of the café, not just a fun addition. Having been moved around on-stage and backstage for several years, it has been painted up with some brilliant designs to finally find a home.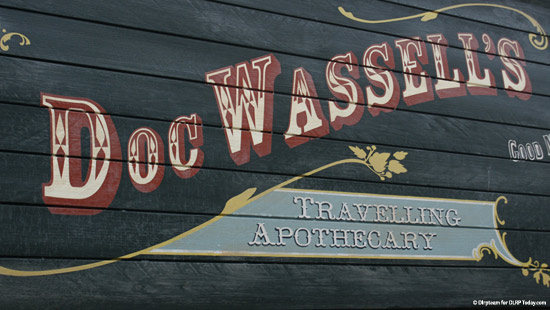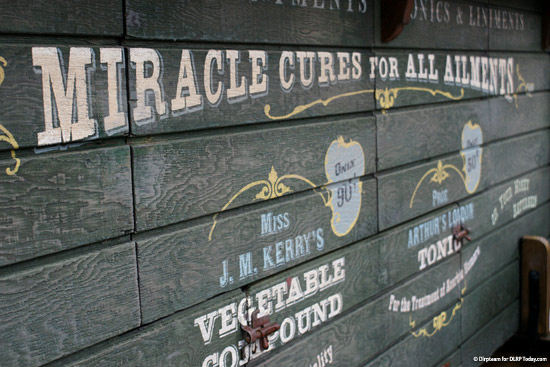 So, is Doc Wassell's little bit of Imagineering gold dust a "miracle cure" for the underwhelming extension itself? That's up to you. But what we can't ignore is the changing attitude to 'Counter Service' restaurants in the parks recently.
Over at Cowboy Cookout Barbeque, for example, a new menu has been in place for a year now which aims to offer a higher quality and variety of dishes — for an increased price. Where elsewhere the standard charge for a Counter Service main, side, dessert and drink is — gulp — €12.95, here they're now pushing prices to €15+ for the "improved" Sheriff menu, attempting something closer to a pub restaurant or Nando's format than fast food burgers.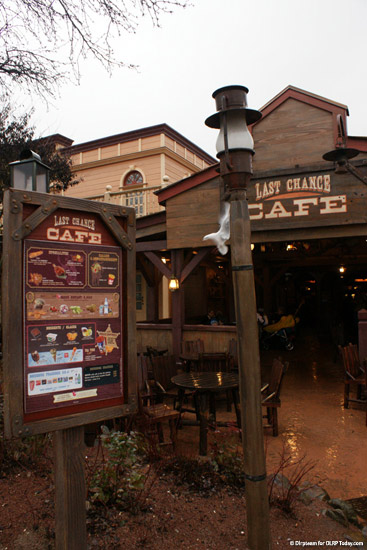 Having Last Chance Café open for more of the year is a great thing, but during rainy, cold times like these, it's much better to be inside, in the warm, well-Imagineered cafés like Fuente del Oro or Pizzeria Bella Notte. Locations that don't starve you of an enclosed interior and beautiful themeing just because you're paying for counter service.
Recent answers to fast food expansion like the new Coca-Cola kiosks L'Arbre Enchanté and Cool Station — or any of the trailers at Walt Disney Studios Park, especially La Terrasse Perrier — all have one thing in common, and there's a danger that by adding a roof, Disneyland Paris will now begin to think of Last Chance as more than just a high season take-away kiosk. That it's "good enough" to be considered the antidote for what might be need for a new, indoor counter service location as attendance continues to climb and Cowboy Cookout prices people out.
Although at least here, unlike the Studios, the Budgeteers shelled out for the themeing.
Photos by Dlrpteam for DLRP Today.