For the past three years, since 16th June 2007 to be precise, the streets of the Studios have come alive to the music of Disney's hit TV movie musicals.
After that first year of High School Musical On Tour, the original show returned in 2008 alongside a new show — High School Musical 2: School's Out!, more heavily promoted as part of 'The Celebration Continues… Big Time!'. Last year, the third show, High School Musical Party!, combined both of those together with new musical numbers from the theatrically-released High School Musical 3.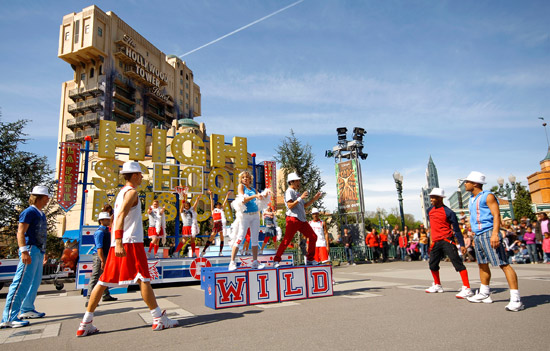 With that third film becoming but a distant memory and the proposed High School Musical 4: East Meets West (West Side Story rip-off by any chance?) not due until later this year, it seems there's a lull in the "phenomenon". Still looking to save money and focus on the New Generation of characters, Disneyland Paris has not renewed the show. No doubt that whole High School Musical overlay of Backlot Express restaurant is seeming like an even better idea now…
Naturally, this is a blow not just for High School Musical fans but for the cast themselves, many having stuck with the show over all three seasons to become recognisable faces at the park. In fact, they've launched a Facebook group titled "Save the Wildcats!" to state their cause.
Though ironically in this same week, Disneyland Paris chose to send out a Wildcats-themed email promotion to UK visitors: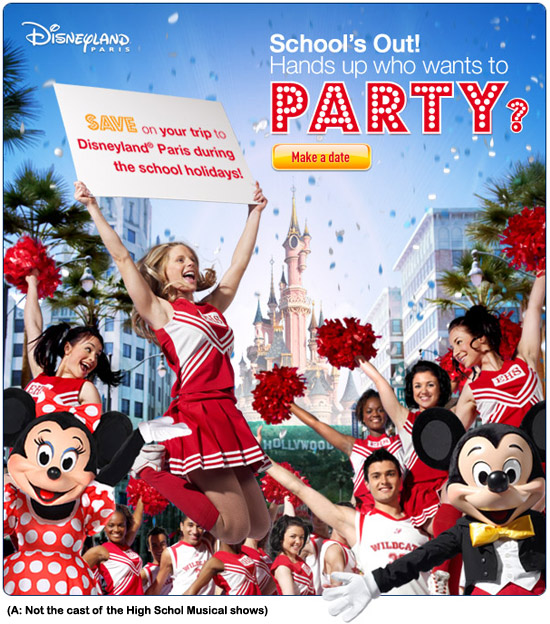 Maybe you're one of those people which didn't like the 'HSM' shows and their overbearing soundtracks trundling through the park — so is this good news for you? Probably not, because there's no replacement. Given the whole economic crisis shambles we perhaps can't complain too much, but it is just another area of the Studios' live entertainment crossed off the programme.
In the time since the first High School Musical show, a lot has changed. Check out our article from back then, proclaiming a "blockbuster" Summer for the park. Besides the opening of Crush's Coaster and Cars Quatre Roues Rallye, there was Lilo & Stitch Catch the Wave Party on Place des Stars Stage, Disney Cinema Parade on the parade route and — the real star — CinéFolies in Disney Studio 1. Those, of course, became known as "Shooting Live" when they were moved to Place des Stars for Summer 2008, only to be cancelled — rather than moved back to a street-based location — when they didn't prove quite so successful.
Though Disneyland Park has also lost some big, popular and high quality shows in The Tarzan Encounter and The Legend of The Lion King without replacement, it has at least kept a good array of smaller entertainments — such as Mary Poppins, Sleeping Beauty — not to mention Mickey's Winter Wonderland and the still-wondrous contender for Best Daytime Parade Ever, Disney's Once Upon a Dream Parade.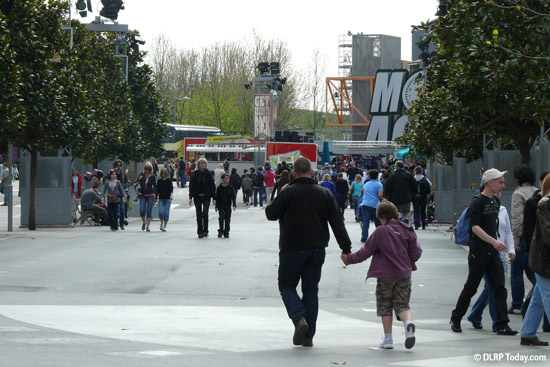 In 2010, the only new live entertainment over at the second gate appears to be Monsters Inc. Scream Academy, which from the very vague details we're guessing will be something small along the lines of Merlin's Sword in the Stone Ceremony. Except, instead of pulling a sword from a stone, we'll be invited to scream as loud as we can and, of course, dance. Screaming kids? We'll see you there!
From the time these shows began, it's disappointing how visibly the "party" has come to a crashing halt. Economic crisis or not, the Studios hasn't seen the faintest touch of "plussing" for some time — revenue-driven additions like the Production Courtyard kiosk add little to the experience and even Toy Story Playland will be an entirely self-contained addition, not improving the existing park.
Where once Hollywood Boulevard was rising from behind the construction fences, promising a rebuilt, properly-themed Studios, and little details like the Monsters, Inc. photo location itself began to appear, it now seems the park is deemed "good enough". And with High School Musical no longer partying in the streets, whatever your opinion, the park just lost one thing to distract visitors from the fact that it still really, definitely isn't.
Images © Disney, DLRP Today.