This is not official confirmation, of course, but from a very trusted source on the comments of our previous article, the Monsters, Inc. Scream Academy event, which is already being advertised as part of the New Generation Festival, has been cut before it even began.
Similar information has appeared as a rumour on French forum Disney Central Plaza in recent days. But, according to the new source, the performers were told only last week that they would be moved to other shows, and the auditions for the live host/MC were cancelled just days before they were due to take place. The event as it was planned is now assumed to be cancelled.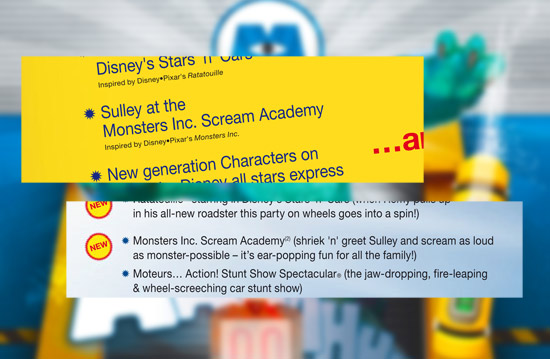 And so the only certain live outdoor entertainment at Walt Disney Studios Park this year will be Disney's Stars 'n' Cars, with the addition of that new Ratatouille car from 2nd April.
But what was this planned event? The latest excerpt from a press release read:
Everyone gets permission to be as loud as they want, and screams of delight are filling the air several times daily at "Monsters Inc. Scream Academy" at Walt Disney Studios Park. "Top scare" Sulley from Monsters, Inc. looks for new recruits with his friend named Patty. Guests of all ages get in the action as they test the monster boogie, monster roar and monster scare – with as many laughs as screams. All are invited to participate in this family-friendly, high energy character interaction. Try your hand at being a Monster!
With guests being invited to "test their screams" to become new Monsters, Inc. recruits, it sounded a lot like the character interaction of Merlin's Sword in the Stone Ceremony crossed with a little of It's Dance Time… in Discoveryland, held together by a live host called Patti. We expressed concern just a couple of weeks ago that this corner of Toon Studio surely isn't big enough for a proper live event.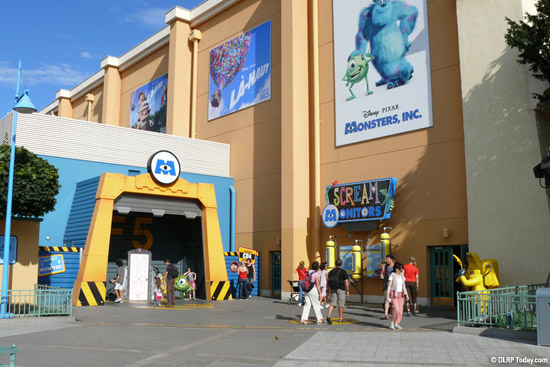 If Monsters Inc. Scream Academy really is cut from the New Generation Festival programme, will it not look a bit embarrassing for Disneyland Paris, who have already advertised it in brochures, images and texts for the new theme year? Perhaps not. After all, the only texts released to the wider public are much vaguer than that above, advertising more the chance to meet Sulley and use the Scream Monitors which have been in place at the photo location since 2006.
In fact, it'll only be a little embarrassing when dealing with eagle-eyed, frequent visitors to the resort. To much of the less fanatical public, that Monsters, Inc. corner could well be brand new this year. So rather than brushing this advertising under the carpet if the entertainment event is binned for good, they could, in theory, continue pushing this Sulley meet 'n' greet spot as a new addition.
But it wouldn't be like Disneyland Paris to simply wipe something down and then pretend it's brand new, would it?
Images: Disney; DLRP Today.