On 19th December 2009, the VIP and Guided Tours service launches a first in the world of Disney Parks — a guided tour dedicated solely to one attraction: The Twilight Zone Tower of Terror.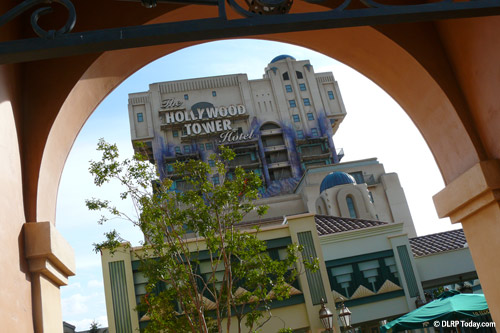 The trial, announced by Grandmath on Disney Central Plaza, will see groups of no more than 10 explore the abandoned Hollywood Tower Hotel for 1 hour as a guide, well versed in the secrets and legends, explains and highlights the fascinating hidden details, in-jokes and Twilight Zone nods.
Taking place on Saturday mornings before park opening, the tours will give a unique angle on the unique attraction, allowing guests to experience exclusive, privatised access to the lobby and library rooms, before concluding their tour of "La Tour" with a drop into the fifth dimension aboard the service elevator itself.
Expect to pay €12 (discounts possible for Annual Passholders), with the tours subject to demand and availability. To begin with, they're only running on a trial basis. Guest satisfaction will be assessed to see if the Twilight Zone Tour can become a full-time offering.
Information is available at City Hall, Studio Services or by calling +33 (0) 1 64 74 21 26. The VIP/Guided Tours service may also be able to help with enquiries via email: dlp.relations.vip@disney.com
Guided Tours of the two parks will continue, available for €15 at Disneyland Park and €10 at Walt Disney Studios Park, which does feature The Twilight Zone Tower of Terror but in much lesser detail. They're free for under 12s and available in several languages depending on availability on the day.