But this didn't involve hidden cameras, silly disguises or breaking into Euro Disney SCA's offices, oh no. Much tougher than that. DLRP Today had to assume the identity of… a regular guest. The kind of visitor who sees Main Street, U.S.A. as just "the entrance"; the kind of visitor who stops to photograph Disney characters rather than litter bins.
The kind of occasional, annual visitor who, visiting again for the second year in a row, might begin to wonder why that big — huge — building at the entrance of Walt Disney Studios Park still appears to be under refurbishment.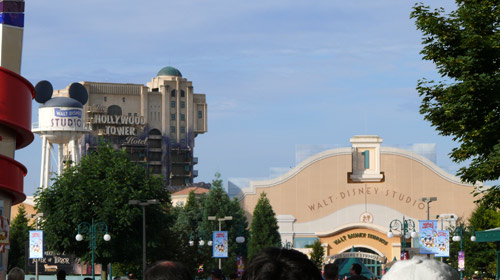 Studio 1 in late August 2009 — you almost can't see the join. Almost.
It was July 2008 that we were excitedly reporting the imminent refurbishment of Disney Studio 1. Why so enthusiastic? Because, if you've missed out, the story is much longer than that. The façade of the soundstage was first covered-over back in July of 2005, with a huge Chicken Little advertisement paid by Buena Vista International (now Walt Disney Studios Motion Pictures).
This was swiftly followed up by a far larger, less sympathetic, billboard advertisement for Pixar's Cars in April 2006. And here the story stagnates. This unpopular billboard stayed in place right through the 15th Anniversary, in total for no less than 2 years and 3 months, before finally being pulled down for the current "refurbishment" covering 15 months ago.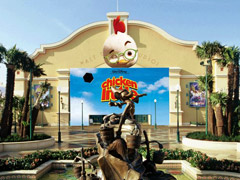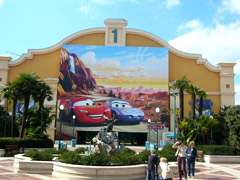 Past mistakes: Chicken Little (2005-06) and Cars (2006-2008)
So, if a casual guest were to email the resort's Guest Communications department, casually wondering what was happening to the building, casually hoping for a finish date, as casually as possible… what would they say? Here's what:
Dear Mr X,

Thank you for your correspondence concerning your recent visit to Disneyland® Paris.

I was pleased to learn that you were recently able to visit the Resort. Disneyland Paris strives to entrance its visitors by the dreams and magic with which they have come to associate the Disney name, and I sincerely hope that your stay provided you with some magical memories.

Upon receipt of your email I contacted the Quality Manager of Walt Disney Studios® Park in order to obtain his feedback on your query. He has advised that Studio 1 is currently undergoing refurbishment and that this work has just started and will continue for approximately 6 months.

Disneyland® Paris hopes to soon have the opportunity to welcome you once more to the resort.

Yours sincerely,
Wonderful! So, the refurbishment has finally just started! Six months is an awfully long time for a repaint, but come April 2010 the park's indoor Hollywood street should finally be billboard-free and sparkling again!
Except… we got this reply back in July. A full three months ago.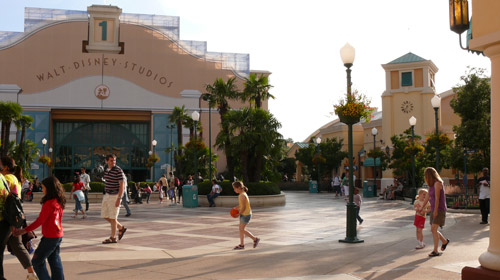 August 2008: We were naively excited to see Front Lot "return".
So halfway into this refurbishment that as "just started", what's the latest? Anyone who has visited the park in that time can tell you — there hasn't been a single worker there. Look up through the scaffolding and it's empty, the building itself looking no different behind there. Unless Studio 1 is being stealthily repainted after park hours, the Quality Manager of Walt Disney Studios Park must have hit some problem just after that reply was sent.
Maybe we should bear in mind that the similarly-styled Walt Disney Television Studios building (now home to Stitch Live! and Playhouse Disney – Live on Stage!) has also been undergoing a refurbishment since as far back as April this year. There, at least, we've seen visible progress — the building's Art Deco accents repainted in red rather than turquoise — but still, it remains wrapped in scaffolding after six months.
Could the crews have been planned to move over to Studio 1 after this project finished, and they've since hit delays, or are we being far too generous? Six months is a long time to wait for that refurbishment to finish — but fifteen months to wait for one to start is even worse.
As the counter in our sidebar tells us: it's Day 1528. The balance has swung. Under scaffolding for more than four years, Disney Studio 1 has now been covered over for far longer than the three years we got to see it as originally intended. In fact, at Disneyland Paris from 2006 to 2009, our former COO would never seen the front of the building in his entire time at the resort.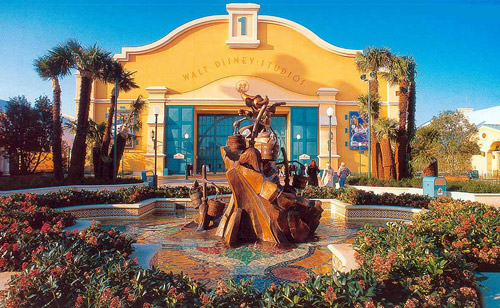 One area of the Studios that looked better in 2002. Simply beautiful.
If Disney Studio 1 isn't prominent enough, it's also based on Walt Disney's original Hyperion Studio soundstage. Having it covered first by two horrid advertisements, then scaffolding for an non-started refurbishment should be entirely shameful for Euro Disney SCA.
The EPCOT wand has met its match. Congratulations Paris, you did it. Now enough already. Can our incoming operations manager end this embarrassment once and for all?
Photos 1-4 DLRP Today.com; Photo 5 © Disney.