Here we go, the official logo of the New Generation Festival…!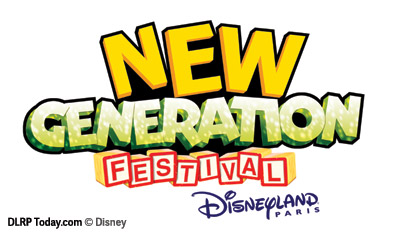 As you can see, the design takes on a modern and very "Toy Story"-inspired design, with big, ,3D yellow letters for "New", a slimy green "Generation" and a "Festival" built out of… building blocks, just like the word "Playland" will be at the Toy Story Playland entrance.
Naturally, the logo comes in a couple of additional variations.
First, we've the new resort logo for 2010:

As with Mickey's Magical Party, the name of the event is slotted in across the top. Unlike 2009's logo, however, there's no balloon or extra graphics on the end.
Note also that both here and above the classic 'Disneyland Paris' logo is back to its good old navy blue self. No shoehorned "Resort", no having "Paris" in a separate colour, nothing. To long-time fans, it'll feel like an old friend has returned.
The third and final logo is the largest: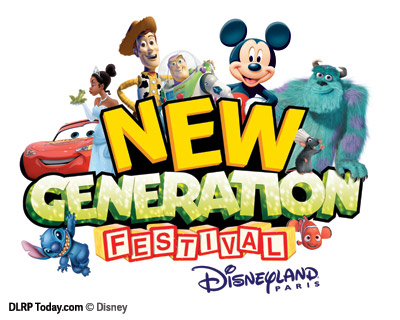 Here we see the first, main logo above — but with a scattering of the characters who'll "star" in next year's events. Lightning McQueen, Princess Tiana, Woody, Buzz Lightyear, Mickey Mouse, Sully, Rémy, Nemo and Stitch. The idea is to contrast between the very classic characters of the current year (Donald, Goofy, Peter Pan), making 2010 seem as fresh as possible.
Phew. Are you all New Generation-ed out? Sorry, but there's yet more…
Finally, here's the key visual for the New Generation Festival. As promised in the earlier reveal, balloons are out. In 2010, it's all about — erm… parachutes!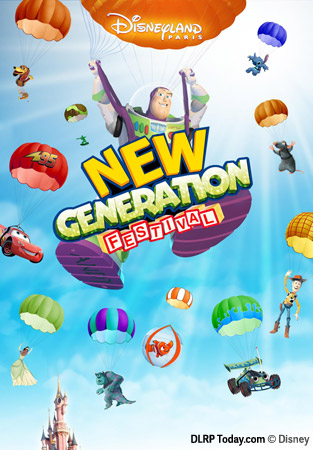 Buzz Lightyear leads the image as Lightning McQueen, Rémy, a Toy Solider, Slinky Dog, Princess Tiana, Nemo, Sully, RC, Woody and Stitch glide towards Sleeping Beauty Castle behind.
This "key visual" is the main piece of advertising imagery we'll be seeing throughout the entire promotion of the event. You might remember those for Mickey's Magical Party, and this here is our brand new one. Get used to it, we'll be seeing it a lot.
Thoughts? Opinions? Ahh, we'll leave that to you for now!
— — —
• If you missed our original exposé on the events of the New Generation Festival, including the new Toy Story Playland and new parade characters, click here!
Images © Disney.