It's the kind of thing that makes the blood of long-time Disney fans boil. When any classic, nostalgic Walt Disney-spirited corner of a park is given over to new merchandise, franchises and especially… Princesses. And now, they've just been handed their prime example on a plate.
Remember how Walt Disney Studios Store looked when it opened?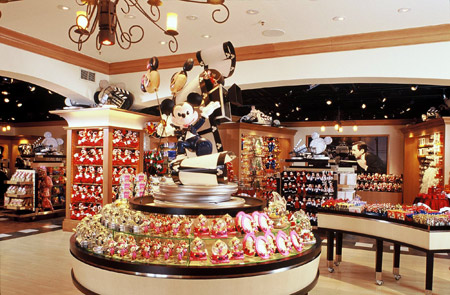 Now, in August 2009, not only has the merchandise changed — the decorations have, too: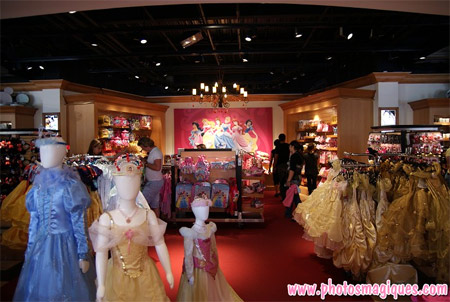 The largest picture of Walt Disney, hands-on with a movie camera, has been unceremoniously covered over by a modern Disney Princess mural, to help along sales of the associated merchandise which has now filled the entire middle of this newly "opened-up" boutique. Walt Disney, we presume, just wasn't making the tills ring loud enough.
Of course, it's not the first time the Princesses have found an unlikely home in what should be a studio administration building. Just last year, the red carpet canopy outside was redecorated with 2D designs of royal curtains and a small placard of the damsels themselves…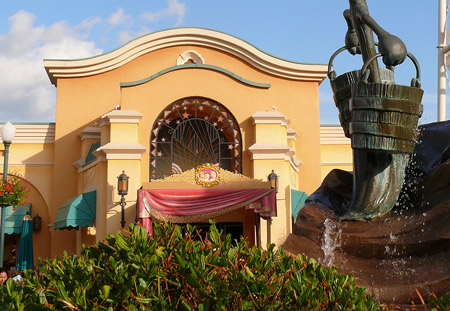 The shop has suffered a bit of an identity crisis right since the opening of the park — the original plan of having two large, Emporium-style stores at the entrance to the Studios, selling almost exactly the same items, seemingly wasn't thought through. Next to the very well-themed Legends of Hollywood inside Disney Studio 1, this rather bland store was always going to see guests simply walking past.
But consider Main Street… There's a reason why we love browsing and shopping there: variety. If this store were on that street, it would comprise at least three different units — Boardwalk Candy Palace, Disney Clothiers and Harrington's, for example. Giving this building the same — just three clear sections with three different names outside — would generate more footfall and more sales than yet another Princess display, wouldn't it?
Pictures: © Disney, Photos Magiques, DLRP Today.