The new antenna and entrance signage for Playhouse Disney – Live on Stage! finally arrived at Walt Disney Studios Park just a couple of weeks ago. As things continue to progress, time for a closer look at the park's fifth new attraction…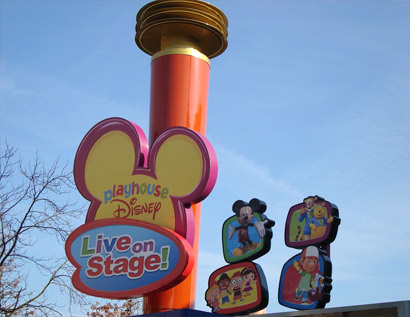 As can be seen, both the main logo and the four smaller signs all have depth to them, likely to be lit from inside similar to the Stitch Live! signage. The "Live on Stage!" portion of the logo sits on top of the Playhouse Disney Mickey Mouse ears.
Since the attraction will be known simply as "Playhouse Disney – Live!" to most non-English speaking markets, it's interesting the Imagineers insisted on the full title for the entrance signage, probably to differentiate this stage-based puppet show from the video screen-based living character show next door.
The zoom-ins, courtesy of DisneyGazette.fr, continue with a view from the parking structure of Disney Village, which lies just behind the empty expansion slot in Production Courtyard. From here, it's now possible to see the completed waiting area barriers, turnstiles and ticket booth-style Cast Member shelter, all similar to Stitch Live! next door.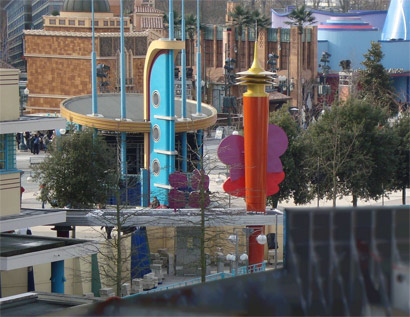 There are four turnstiles, as for Stitch, but here they all lead into a single waiting area. As mentioned in a previous update, it is expected the show will be performed around five times a day, similar to Animagique, and likely with separate performances for French and English.
Whilst those electronic displays built into the roof canopy above will display the remaining seats for the next show, the full show schedule, it seems, will also be posted outside the attraction — on the grey noticeboard which Photos Magiques recently reported had been removed from outside Stitch Live!.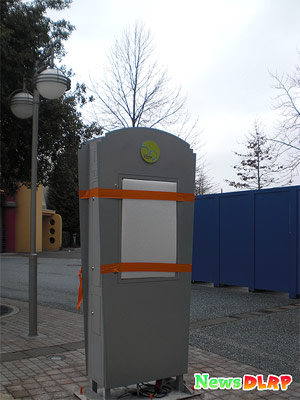 As NewsDLRP spots, the board has now reappeared outside Playhouse Disney – Live on Stage!, likely because Stitch's 15-minute show schedules didn't really require a full guide to be posted outside.
Photos as credited.