Indeed, though it upsets DLRP Today to announce this, Walt Disney Studios Park won't be welcoming an entrance to this new stage puppet show looking anything like the one in Florida.
Instead, the attraction's entrance will be pretty much as we guessed in the last construction update way back in August — a modest little off-shoot from the Walt Disney Television Studios building looking just like Stitch Live! a few metres away. The indented metal covering on this new extended concrete roof has already been completed, and we can't even see the join…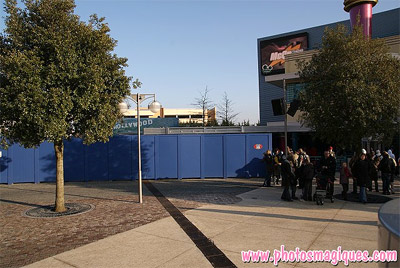 The latest construction confirms not only that the curved canopy has indeed been extended to provide a new entrance marquee, but that the new Playhouse will also follow Stitch's lead with an identical show times display…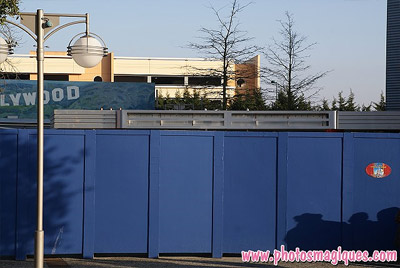 Having the same display, with two sides, could also hint that the show will be presented in separate French and English performances. So far, nothing about the attraction's language plans has been announced or even rumoured, but it is expected Playhouse Disney will run more alike Animagique than Stitch Live!, with only 5 shows per day.
Finally, the attraction has followed Stitch Live! again right onto the latest park map. Though, perhaps confusing for some guests, the two attractions' logos and numbers are presented the wrong way round, with Playhouse Disney's entrance apparently closer to Rendez-Vous des Stars Restaurant…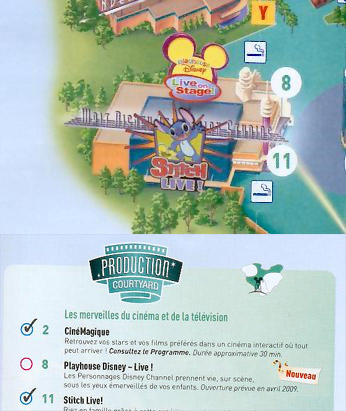 Well, at least that elusive Number 8 on the Studios map has finally been found!
• Photos from Photos Magiques; Map images from Scrooge on DMI forum.