Hearing the news of hip hop beats and jazzy street dance that are to come when It's Dance Time… in Discoveryland premieres, the dreams of visionaries and the historical future held by Discoveryland may have cracked just a little.
But, if the latest word is true, it won't the more classical, Verne-inspired area of the land welcoming DJ Stitch and his loud party tunes, but the other side of Discoveryland… that arguably even more strange, 1980s/90s corner which houses Star Tours and Honey, I Shrunk the Audience. Discovery fans, breathe a small sigh of relief.
Current work going on over by Star Tours has seen the entire ground dug up around its towering entrance sign, from Videopolis right across to Star Traders.
View from the Fastpass entrance to Space Mountain: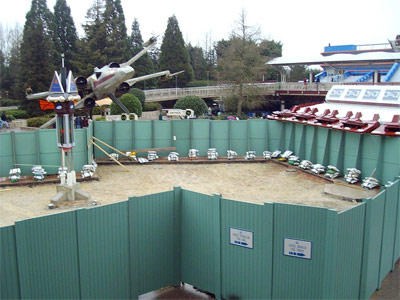 Photo by Mathieu, Disney Central Plaza forum
And, in a light dusting of snow, from Discoveryland Station: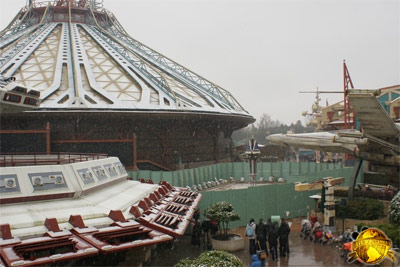 Photo by dlrp team, Disney Central Plaza forum
This would be a completely new location for a live show in the park, since the few other entertainment events held in the land have been positioned further toward its entrance. You could even suggest that, by positioning a live Stitch-hosted show here, they might also be trying to drum up more trade for Star Tours and Honey, I Shrunk the Audience themselves, both taking noticeable dips in guest numbers in recent years.
Why do they need to dig up the ground, if this is work for the new show (which is supposed to be hosted by Stitch atop a moving podium, with just coloured dance mats on the floor)..? Unfortunately, we don't know yet. If only this were a true Tomorrowland like all the others…
Photos as credited.