The brand new souvenir calendar for 2009 is now available in the shops and boutiques of Disneyland Resort Paris! Every year, regular as clockwork, we get another one to add to our collection. From 2002, they featured the Earful Tower and Walt Disney Studios Park for the first time. Then, in 2008 — all change! The water tower landmark of the Studios replaced by its towering Hollywood Tower Hotel neighbour.
In 2009, the change remains in place, albeit with a more colourful new illustration: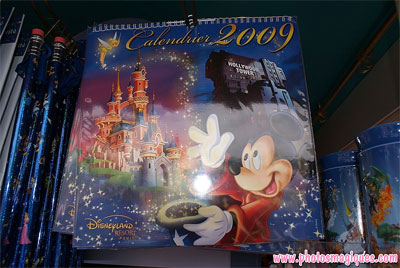 After all, you're more likely to buy something with that fabulously-themed, thrilling, star attraction on it, than something with a simple water tower, right? Earful fans, have no fear, he's still around as the "true" park icon, on tickets, maps, logos and so on, but there's no arguing The Twilight Zone Tower of Terror's immediate status as an icon of Disneyland Resort Paris.
Inside, things remain almost equally unchanged. Many of the pictures are exactly the same as 2008, whilst some have simply switched around (compare July and August with your 2008 calendar, for example).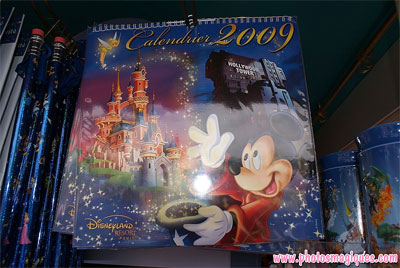 Some of the more generic photos on the 2008 edition are replaced by new images for things like Stitch Live! and Toon Studio, whilst Buzz Lightyear Laser Blast is now represented by a visual from the Florida attraction (notice the stuck-down guns) rather than the old image of Buzz actually outside the Paris attraction.
It's available now for €6.90, at least rather more economical to collect than pins, eh?
[Pictures: PhotosMagiques.com]