We reported the introduction of a second crush at Crush's Coaster in Walt Disney Studios Park with the testing of FASTPASS tickets for one week in July. Then, we gave it an analysis so thorough that even Jaque's Boat Cleaners would be proud. Ultimately, we accepted that the introduction of some kind of FASTPASS system at the popular yet capacity-starved attraction might just be inevitable — if only to stop the tide of complaints and questions from confused, queueing guests.
And the operations managers of Disneyland Resort Paris? They're not quite so sure. Which is why, from 18th to 24th August 2008, the full FASTPASS tests will return again!
This information comes from member Chti Greg on Disney Central Plaza forum, who provided the original forewarning of the July tests — and just happens to work as a cast member on the attraction itself.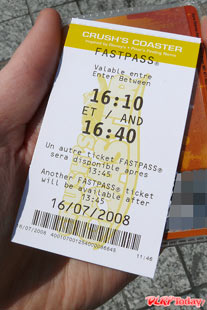 So, if you're headed to Marne-la-Vallée's little piece of the Australian reef this month, you might just be able to test the timeslot system for yourself. Yes, that's important — test it.
Operations are apparently just as hesitant about adding FASTPASS full-time as the fans who complain it will cripple the attraction's regular queue. So, they'll have another chance to test it fully again and perhaps, just perhaps, convince themselves once and for all that it will or won't work full-time.
[Pictures: DLRP Today]