On a sunny day in the height of Summer, crowds bustling around the walkways, a calm breeze in the air, there's no better place to be at Disneyland Resort Paris than aboard one of the riverboats.
However, fans will know all too well that the stories surrounding one of these two majestic ships could compete even with those of her namesake — Molly Brown. We learnt in March 2005 that this unsinkable grand dame was not immune to an engine overheating, and, as she sat paralysed in the middle of the river for well over six months, we learnt she was also at the mercy of the legendary Marne-la-Vallée weather.
Jump forward to June 2007, however, and we were heralding her return with a triumphant comeback article speaking of the lengthy refurbishment and bright new coat of paint all over. Now, in Summer 2008, how is she looking?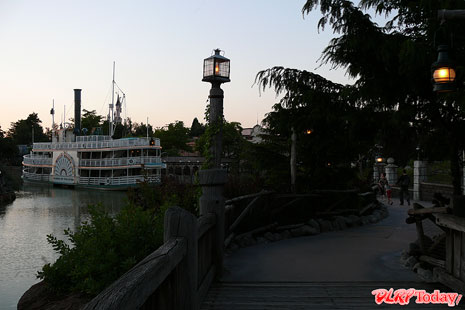 Generally, quite good. But look closer, and you see the cracks beginning to show again — or rather, things growing in them.
Because, whilst Molly Brown still looks bright and clean enough from her refurbishment in 2007, a steady collection of weeds growing out of her inner side could suggest it's time for another quick refresh.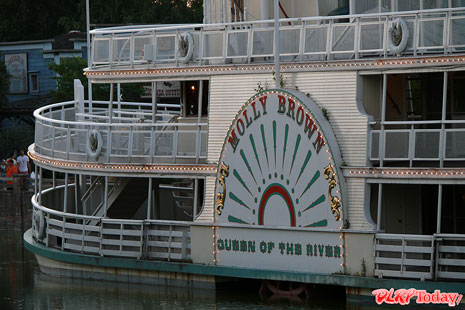 Whilst paint needs repainting, weeds just need pulling. The majority of them grow from the cover around her side-wheel paddle, but also from the edge of her lower deck, on the side which faces toward Big Thunder Mountain, away from Thunder Mesa Riverboat Landing — but too far for a maintenance crew to reach? Apparently so.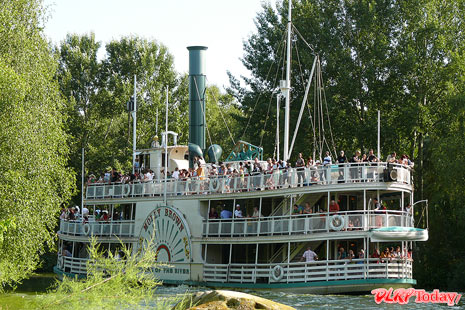 Unfortunately, they aren't even unique to the side of this riverboat which faces away from the mainland. Look at the photo below left, and the first plant life on her other side is also beginning to grow.
Climb aboard Molly Brown and you'll probably never notice, we know, we know. Although it does seem even her on-board commentary now needs a little refresh too — Old Joe's dog disappeared from his fishing pier many months ago, and now it seems Old Joe is missing too, though his fishing line remains!
It's just a shame for riverboat fans that, in this case, that old "if it's broken: don't fix it, remove it" motto that plagued the resort in the early part of this decade doesn't apply to simply pulling a few weeds. Don't miss the boat again, Disney — nip it in the bud.
[Photos: DLRP Today.com]