Guarantee yourself a room at the top of the Hotel New York tower, get VIP FASTPASS for the length of your stay, enjoy an exclusive lounge with complimentary drinks and a buffet breakfast with characters every day.
The Empire State Club is certainly a tempting new addition to Disney's Hotel New York, taking over 34 rooms and suites last month to finally provide the hotel with an exclusive upper-tier option in the same vein as Newport Bay Club's Admiral's Floor and Disneyland Hotel's Castle Club.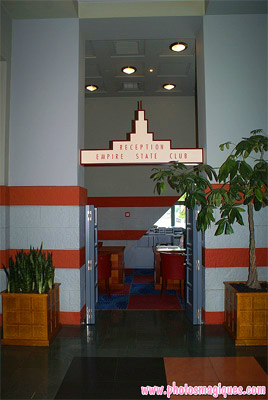 In fact, the hotel had such a "club" when it first opened back in 1992, but this fell by the wayside in the years that followed. For the new tier, the old check-in area has been reawakened, as seen above, giving Empire State Club guests a faster check-in and a more personal service.
That service extends to the upper floors of the hotel themselves, on which the rooms are located, where you'll find a brand new lounge to relax with a complimentary refreshment or your continental breakfast each morning.
Completely redecorated and built just for the Empire State Club, the area has plenty of neat touches — such as Mickey Mouse shapes in the art deco panels — and a very upmarket feel, darker than the other "clubs" but therefore very in-keeping with the New York's more professional overall style.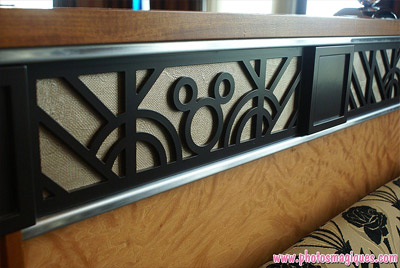 The rooms themselves have yet to be seen. Have you stayed there already? Why not send us a photo or post one on the magicforum?
So, at what price does all this exclusivity come?  Based on two adults sharing one room, you'll be looking to pay between £26 (during the lowest season) and £41 (in the highest season) extra per person per night. On a stay of 4 nights starting today, for example, you'd pay an extra £288 between the two of you, bumping the regular £602 price up to £746 per person (£1492 total).
In comparison, the Castle Club at Disneyland Hotel, arguably a much more exclusive club, costs around £66 extra per night per person, based on two adults sharing. Stay there in the height of Summer for four nights with a friend and you'd pay £472 extra between you, bringing the regular £1021 price per person up to £1257.
At the other end of the scale, the Admiral's Floor at Disney's Newport Bay Club — which provides merely a guaranteed room near the top of the building and a dedicated check-in — costs between just £9 and £16 extra per person per night for a one-night stay. The Empire State Club does, therefore, seem well-placed and fairly priced at least within the structure of the overall Disney Hotels pricing.
Whether the pricing — and the offering — is fair in the real world is up to you.
— More about the Empire State Club and its advantages here.
[Photo credit: Photos Magiques]