Here it is, the press release in full. We'll be introducing Mickey's Not-So-Scary Parties in a separate article, and be sure to read below for a full re-cap of the news and much more information…
Disney's Halloween Festival at Disneyland Resort Paris


The logo — for just one more year…

Marne la Vallée, July, 2008, from October 4, 2008 to November 2, 2008, guests are invited to discover the unmissable colourful Halloween season in Disneyland® Park that will be full of surprises.

During the month long celebration, Disneyland Park will offer a range of new Halloween entertainment to make the whole family scream with laughter. The spirit of Halloween is up for grabs for the delight of all, Pumpkin Men and Ladies will lead the fest which takes place on Main Street, U.S.A., Central Plaza and Frontierland®, transformed in Halloweenland for the occasion. And for the first time Mickey's Not-So-Scary Halloween Parties in Fantasyland and not forgetting the now famous Halloween Party on October 31st.

Halloween invades Main Street, U.S.A.®

Guests, entering Disneyland Park, will discover a '˜spook … tacular' Main Street, U.S.A., covered with blotches of orange paint left behind by the Pumpkin Men and Ladies.

The Disney Villains' Halloween Showtime presented by Minnie dressed in Halloween fashion line and surrounded by Pumpkin Men and Ladies will take place several times daily on Central Plaza, followed by a giant 'Meet'N'Greet' with Disney Villains.

The Halloween Disney Characters' Express will several times daily go back and forth on Main Street, U.S.A. with beloved Disney Characters on.

The Disney's Once Upon a Dream Parade which features famous moments from the most beloved Disney stories ever, will be preceded by a special Halloween pre parade featuring the Disney Villains, Pumpkin Citizens and for the first time, Tim Burton's Nightmare before Christmas characters Jack Skellington and his friend Sally.


New advertising graphics.

Halloweenland: the heart of this scary, good humoured celebration

Once through the gateway of Fort Comstock a walk along Halloweenland's pathway will offer guests loads of surprises.

There will be regular shows on the Trick or Treat stage:

'¢ Minnie & the Bat Boys will appear with live music and a host of singing classic Disney Villain songs.
'¢ Goofy and the Magic Pot, an exhilarating and energetic show where children can learn to make pumpkin soup and dance alongside Goofy himself!

At the Phantom Manor boot hill cemetery, guests may meet Jack the skeleton and his friend Sally, from Nightmare before Christmas.

Children will enjoy the traditional Halloween Piñata for the chance to grab some sweet treats several times daily.

Disney's Halloween Party in Disneyland® Park*


New image to advertise the Halloween Party.

On the night of Halloween, Disneyland Resort Paris lets all the friendly ghosts in for a special Halloween Party from 8.30pm to 1.00am in Disneyland Park. Night owls in their most spectrrrraaaaacular costumes can enjoy family friendly and ghostly nights filled with fun and laughter.

As always guests will be able to experience a wide variety of Halloween entertainment:

'¢ The Disney®'s Fantillusion Parade, where the world of darkness meets the enchanted world in a fantastic twilight spectacular
'¢ A Special Fireworks display with the fangtangulous backdrop of Sleeping Beauty Castle
'¢ Spooktackular Stage Shows on the Trick or Treat Stage (Halloweenland) and The Disney Villains' Halloween Showtime in front of Sleeping Beauty Castle
'¢ A Spooky DJ Party on Main Street, U.S.A

*Disney's Halloween Party ticket will be available at 29€ .On October 31, 2008 attendance is limited in order to ensure premium experience, we recommend to buy tickets in advance on www.disneylandparis.com or to call +33 1 60 30 60 53. The Party ticket holders can benefit of entering the Park as early as 5.pm. The Party can be modified, or cancelled without prior notice, notably for inclement weather.
This is Halloween, this is Halloween! Let's begin with the most interesting announcement of it all — real, live meet 'n' greet versions of Jack Skellington and Sally will be arriving on Boot Hill next to Phantom Manor for the duration of the festival! These characters have never before been featured in Paris, and only officially debuted for the first time at Hong Kong Disneyland last year.
The ongoing, if not elevating, popularity of Tim Burton's stop-motion classic can be seen at the resort even today by the amount of merchandise both being sold, bought and worn around the parks.
Phantom Manor will not be getting an overlay in the style of the 'Haunted Mansion Holiday' from California and Tokyo, but the Nightmare Before Christmas theme will certainly become a strong part of the Halloween Festival, as the couple pop up again in the pre-parade of Disney's Once Upon a Dream Parade. The new daytime parade will again not be made-over for the festival as the park's old parade was, as the entertainment directors stick to a short cavalcade to precede the event and keep the popular parade intact.
One element of the 15th Anniversary that WILL be given a makeover this year, however, is Disney Characters' Express, now to be known as the Halloween Disney Characters' Express with special decorations and rather more villainous characters on-board.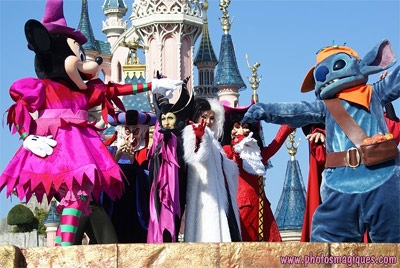 Stitch leaves, new villains arrive, Minnie gets a new outfit.

Last year's popular new Disney Villains' Halloween Showtime event on the Central Plaza Stage will also be expanded with a couple of new villains — Governor Ratcliffe from Pocahontas and Shan-Yu from Mulan.
Besides this, the festival looks remarkably similar to last year. Minnie and the Bat Boys and Goofy and the Magic Cauldron return to the Trick or Treat Stage next to Cowboy Cookout Barbeque, as does the long-running Halloween Pinata. Even Disney's Halloween Party on 31st October sounds like it might, for once, remain quite similar to the previous year.
As for decorations, on reading the press release you'd be forgiven even those will be the same — Main Street again overrun by orange "Pumpkin Men" and Frontierland turned into Halloweenland. But here's the big news: This year, those Pumpkin Men will arriving on their own. The Pink Witches, including their live character forms and all decorations (such as those unpopular cauldrons near Fuente del Oro Restaurante) are GONE.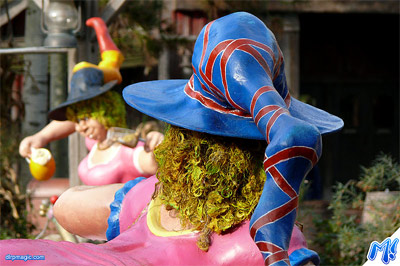 Goodbye, good riddance…
In addition, Stitch's very short-lived invasion of the event is now well and truly over, as the resort seeks to refine his presence to the new Stitch Live! attraction over at Walt Disney Studios Park. In place of these two, for 2008 we will instead be welcoming the Pumpkin Men in much greater numbers — and, as you read above, Pumpkin Ladies too.
Reports suggest that brand new decorations will be created, in a much more "Disney" style. Both Mickey and Minnie will also apparently wear brand new costumes, in rich deep purple, orange and green colours. Finally, everything will again be focused on Disneyland Park — no expansion whatsoever of the festival into Walt Disney Studios Park is planned.
The directors are taking the entire concept back to a more focused, classical approach — and continuing to develop the "Disney" presence in the festival at the same time.
[Pictures & Images: © Disney, by DLRP Magic.com and Photos Magiques]
— Disney's Halloween Festival kicks off on 4th October and continues until 2nd November 2008. Keep your devilish stare and scrawny face pointed right here on DLRP Today.com for more news…