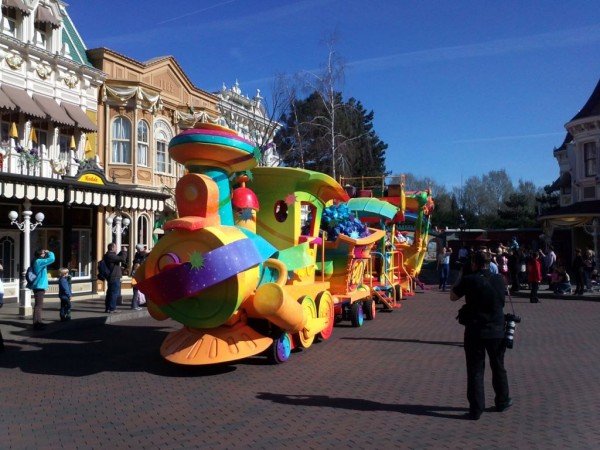 Have your sunglasses at the ready, folks! No, not for the glorious weather we're enjoying in this corner of Europe, but for the first "soft opening" arrivals of Disney's 20th Anniversary Celebration Train, which began at 11.30am today and continue all week. And there it is — in all its day-glo splendour. If you can believe it, it's even brighter than the publicity image. The whole train has been resprayed from pistons to chimney in a complete rainbow of colours. This was not a moment of artistic restraint.
On-board, the characters wear their new 20th Anniversary costumes, inspired by Mickey's classic Sorcerer's Apprentice guise but coloured with more wild, day-glo shades. Chip, Dale and their female friend Clarice led the first wagon, followed by Minnie, Donald and Daisy in the middle, then Goofy and Pluto bringing up the rear. New additions to the design of the train include a '20" on each wagon and Tinker Bell atop the chimney, guiding the train.
The train was quickly described as "garish" on forums, and that could be perfectly accurate. But you know what — and perhaps not setting the bar high here — it might actually be the best revision of this event to date, since the original Disney Characters' Express. While that started out with a fairly classy blue, white and gold train, it was modified here and there in subsequent years to become a real mish-mash of a design with little artistic direction nor anything that really tied it together.
At least this year the train has been stripped back and completely resprayed, giving a uniform look to the whole event. This is helped by restricting the invite list to only the "VIP" characters, wearing new costumes which actually match the colours of the train, rather than their clashing everyday gear. And, rather than continuing to remix "Tous en Train" to infinity, we've got a whole new song in "Do You Believe" (which you can listen to here). The whole vision is such a spectacularly jarring contrast with the quaint cobblestones of Main Street, U.S.A. that maybe it just works.