Some called "Hurrah", others called "Horror". For Disneyland Resort Paris, this is just about the debate of the last twelve months — should Crush's Coaster offer FASTPASS?
First, the arguments. If you're a pro-FASTPASS visitor, you might be shocked at just how strongly some people feel against the system. Here is a way to let people spend the time they would be standing in a line enjoying themselves elsewhere in the park. You get your ticket, return at the time, and are guaranteed a shorter wait. Sounds pretty great all-round.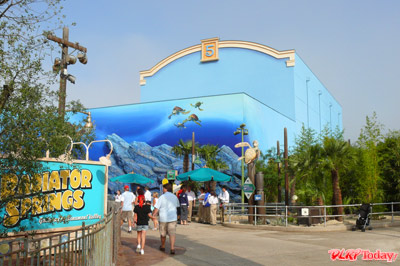 Capacity issues
The big issue, that anyone against the system will tell you, is this: FASTPASS does not add capacity. It sounds obvious, but many — particularly those "everyday" guests in the parks — assume that if an attraction has FASTPASS it can, somehow, automatically accept a much greater number of people through its turnstiles every hour. Of course, not true.
What happens is that, whilst the flow of people through the FASTPASS queue is regulated and steady in accordance with the attraction's actual capacity per hour (or throughput) thanks to the timeslots, the people deciding to join the regular queue can end up waiting longer.
"But it's not our problem, they could have got a ticket too" you could say. True, they could — but not everyone can. Usually it's only between 40 and 50% of all the guests going through an attraction each day. There will, always, be a vast majority who have to grin and bear the queue if they're to get on-board.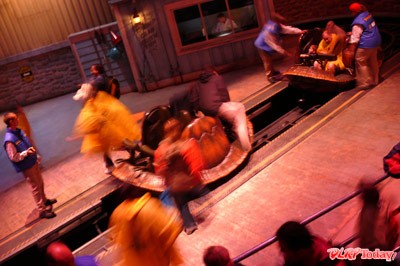 "Well then, why not make the attraction FASTPASS-only, so that everyone needs a ticket?". Sure, that would guarantee you a ride with a guaranteed shorter wait, but here you threaten to destroy completely the logistics and operation of an entire Disney theme park.
Disneyland in California learnt this to its peril in the early 2000s, when the much-maligned old management seemingly added it to everything in sight, answering the call of unknowing guests and hoping for significant increases in food and merchandise sales as people waited.
How much is too much?
In fact, those increases failed to materialise, because when you get a FASTPASS ticket you rarely think "right, now let's go spend some money whilst waiting" — usually, you still want to actually ride an attraction.
Case in point — during the tests at Crush's Coaster, the normally-sedate Flying Carpets Over Agrabah suddenly began to accumulate queues of between 75 and 90 minutes every day (equalling the Coaster itself), as guests grabbed a ticket and then went straight to the first nearby attraction.
With FASTPASS tickets in everyone's hands, the walkways become crowded to the extent where the park capacity actually decreases, things become worn before time and complaints actually rise.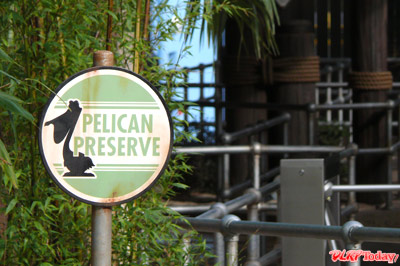 Surprisingly, it seems it is in Disney's interest to keep you IN the queues, so that more people can get into the park and more people have a good time. In the end, the new management in California removed FASTPASS from "it's a small world", Pirates of the Caribbean, Star Tours and The Many Adventures of Winnie the Pooh — and it still remains at no less than 8 attractions there.
It's not all bad — the system can work great on attractions that are designed with it in mind, or built with a big enough capacity that they can easily cope with both ticket holders and regular queuers. The Twilight Zone Tower of Terror, with its two huge loading floors, is a good example. Similarly, Space Mountain: Mission 2's two platforms mean that trains can be "prepared" in advance so that the throughput of trains stays steady and right up to the maximum capacity.
And now we arrive here — Crush's Coaster. The E-Ticket that isn't.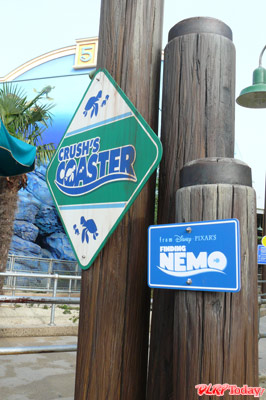 Joining the Crush
For all intents and purposes, this attraction IS considered by guests to be as important as Big Thunder Mountain or The Twilight Zone Tower of Terror. It's a classic Disney "weenie" as you step toward Toon Studio, it's a roller coaster, it's based on the most successful animated movie ever made and it's a LOT of fun. But it also has a capacity of just 960 people per hour, and that's with turtle shells filled right up with 4 people departing regular as clockwork every 15 seconds.
Crush's Coaster was never meant to be such an important attraction in the fabric of the park. But, whilst Toon Studio waits for its real high-capacity E-Ticket, it is always going to be. On this one, Imagineering simply struck gold with an idea and didn't realise before it was too late.
The comparisons to Peter Pan's Flight across the way are spot on — a popular film, a great concept, with a low capacity and 'E-Ticket' status that wasn't intended. Part of this, interestingly, seems to come from the conclusion of guests that FASTPASS equals a must-see attraction.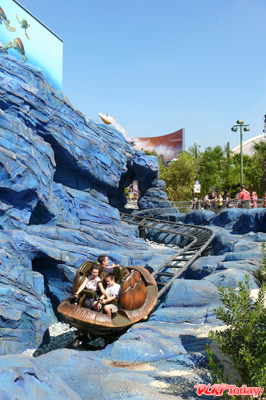 The only way to truly solve the Crush at Crush would be to build a second track for the coaster — which won't happen. Or perhaps to build a second loading platform inside, to make sure its' throughput stays steady — which won't happen. Short of demolishing it (which again, won't happen), FASTPASS begins to look like a good option. And that's what the regular park guests think, too.
Questions and answers
If you're reading this between the hours of 10am and 7pm, we can guarantee unquestionably that right now, in Walt Disney Studios Park, a Cast Member will be being asked "does Crush's Coaster have FASTPASS?" or "why doesn't Crush's Coaster have FASTPASS?". Maybe someone will even be making a complaint at Studio Services.
So now we find the real reason for these tests — they're never going to make 100% of people happy with the situation at Crush's Coaster, but if they can make 40% of people happy — and then tell the rest that "yes, we do offer FASTPASS, but they've all gone, it's very popular, sorry", then that seems to show, to these people, that Disneyland Resort Paris are trying to handle the situation.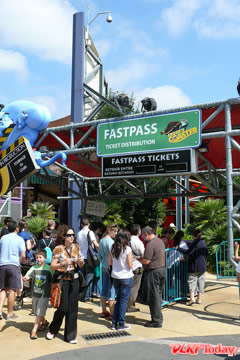 In that sense, it almost seems inevitable. Hand out around 3,000 FASTPASS tickets each morning, and that's 3,000 happy guests that otherwise would have faced a grumpy 90-minute wait. Cast Members finally have the ability to say the system IS offered, but all gone for the day.
It seems like a good solution, but there's bound to be a negative somewhere… The 5,500 other guests who can ride the attraction each day, perhaps? Not only are they now waiting for slightly longer than before (since people pick up a FASTPASS who might not have otherwised bothered to ride at all), but they're in a queue with fewer people and having to watch 30-or-so giddy FASTPASS riders walk right by every few minutes. So, for the "other 60%", it begins to look less appetising.
And of course, we shouldn't forget that for the recent tests Crush's Coaster effectively commandeered the FASTPASS machines of its neighbour, Flying Carpets Over Agrabah. Not only does this throw off a little the themed environments Disney usually promotes, now the Cast Members at the actual entrance have to just replace their "there's no FASTPASS, sorry" with "yes, FASTPASS is right over there".
Workable or manageable
If the system is ever offered permanetly at the attraction, surely a more workable solution for the tickets would be needed? Unfortunately, the area around the attraction has been limited terribly by the original design. The entrance is often a bottleneck that could give even the area in front of Big Thunder Mountain a run for its money.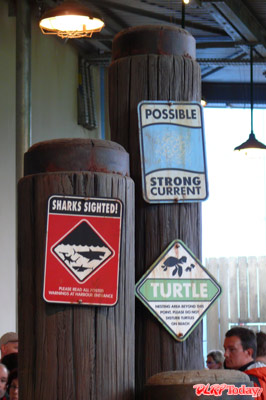 The area is so cramped, that the regular queue line practically never fits within its original boundary, running away around the palm trees in front of Flying Carpets, or even extending across Toon Studio in the mornings. The queue line itself isn't anywhere near big enough, with the look and appeal of a sandy cattlepen. Many would agree it could do with having a touch more in common with the colourful, interesting, palm-filled entrance of the attraction.
Perhaps, rather than making guests' wait for the attraction more enjoyable by giving them a return FASTPASS ticket, the answer could be to make their wait more enjoyable in the actual queue line?
[Pictures: DLRP Today.com]
Note: Several pictures were taken on a day in August 2007 when it was announced in advance that the attraction would be closed for maintenance, used here since the lack of guests gives a better look at the true amount of space around the attraction.