We're used to hearing stories from California and Florida about over-protective health and safety issues closing down smaller Disney attractions, such as Goofy's Bounce House, but in Paris?
Since the Marne-la-Vallée resort lies at the heart of Europe, a place largely free from the "lawsuit culture" of the United States, the parks of Disneyland Resort Paris have long been able to have darker, more atmospheric walkways and much more adventurous, interactive props like the one in question here in Adventureland.
But is that time coming to an end?
Pay a visit to this little corner of Adventureland between the two rises of land, underneath the giant suspension bridge, and you'll find a little hidden treasure has just been de-Imagineered. The giant rock, tipping safely to and fro with adventurous guests since 1992, save for a few brief periods of static time, has now been propped up with a lump of concrete and taken firmly out of action.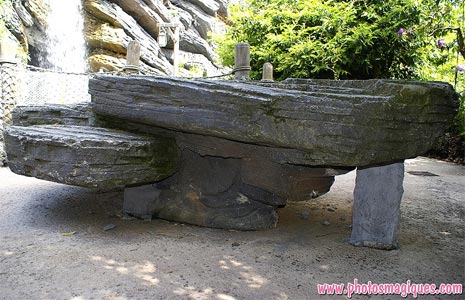 The concrete support is sturdy and very permanent, suggesting Le Rocher qui Bascule is gone for good. So, what's the reason? Health and safety gone too far? Maintenance trying to save themselves from another job?
Certainly, propping the stone up with concrete won't stop those over-active younger visitors climbing all over the rock — the possibility of a fall is still there. Whilst Disneyland in California just introduced the fabulous themed props and interactive games of its 'Pirate's Lair' — themed props and games which would increase footfall in Paris' Adventureland massively — the park in Paris has instead just lost another reason to explore this land.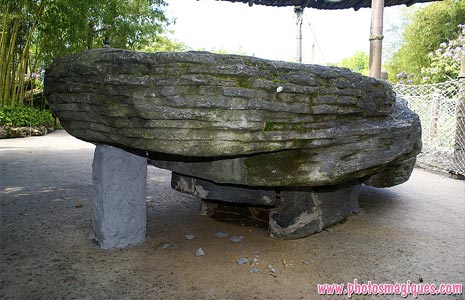 So, what next? We've tried to predict the alterations to several other Disneyland Resort Paris attractions, based on this kind of thinking:
Big Thunder Mountain

The idea of a "runaway" mine train is far too hazardous and the lengthy drop into darkness could cause screaming-related injuries. Therefore, all trains will now be manned by a driver who will regulate speed to no more than 10mph.

Le Pays des Contes de Fées

This pleasant boat ride through fairytale scenes is mostly harmless, but on hot, sunny days there is a chance guests could be subject to sunburn or otherwise. Therefore, a giant showbuilding will now be built around the entire Storybookland area.

CinéMagique

The loud explosions when George enters the cinema screen could surprise guests beyond a healthy level. Instead, George will now simply step quietly behind the curtain and then appear on-screen.

The Twilight Zone Tower of Terror

Should a guest not secure all or some of their personal items, a person or persons could be injured by the item as the elevator drops. Though an incredibly unlikely event, the elevators will now descend no faster than regular hotel elevators to entirely prevent this.

Art of Disney Animation

In the 'Animation Academy' drawing masterclass, children are given pencils which could be potentially lethal. With immediate effect, no drawing of any kind will be allowed inside the building.
It seems strange that the option wasn't taken to surround Le Rocher Qui Bascule with the kind of soft flooring seen in the park's outdoor play areas. Leaving the rock in place also suggests that no plans are afoot to replace it with something more safety conscious — such as one of those already-Imagineered 'Pirate's Lair' games.
If they're not careful, the sense of Adventure could be all but gone from our Adventureland.