Two years ago, when this old Dumbo parade float, originally created for The Wonderful World of Disney Parade in 1998, was converted into Disney Characters' Express for the 15th Anniversary, it was perhaps the hit of the season. In one event, it brought frequent life to Main Street, U.S.A. and fulfilled many guests' wishes for more — and more easily accessible — character meet 'n' greets.
Here's how it looked on one of its first arrivals, back on 2nd April 2007…
And yesterday, Saturday 21st March, guests were given their very first look at the newly-redecorated engine and carriages, as a certain mouse climbed on-board Minnie's Party Train for a special trial run, captured in these photos by julien59 on Disney Central Plaza forum…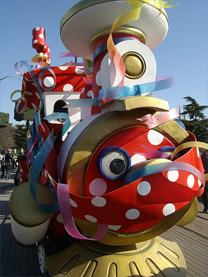 On the whole, any blue of the old Disney Characters' Express has simply been replaced with red polka dots for this new overlay, though there are a few exceptions — the roofs inside the carriages for example, previously white, are now red polka dots, too.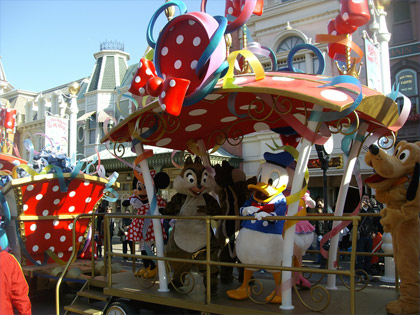 The concept art and latest marketing visual were ultimately fairly accurate, with the concept art's colourful streamers at least making it to final design here, even if they didn't for the lampposts of Main Street. The blue flags atop the old train are replaced by those famous Minnie Mouse bows.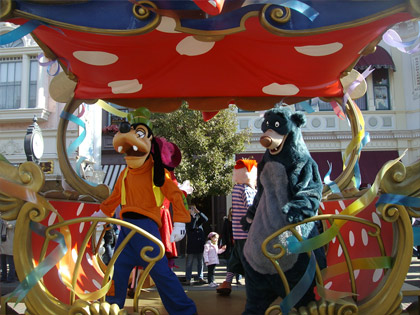 However, the Mickey Mouse shapes on the top of each carriage don't carry the logo of either the celebration or the new Party Train as proposed, given (arguably nicer) polka dot backgrounds instead.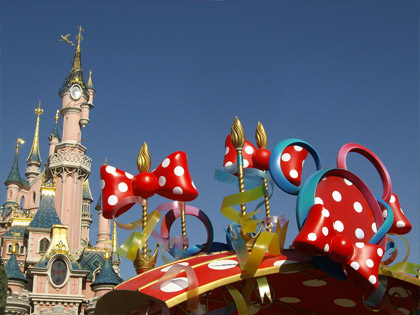 And of course, as the introduction described, the redecorated train certainly looks a little more blushing than its predecessor. Though all previous concepts and images showed the face remaining white with the eyes given red rather than blue outlines, the final design has kept the blue outlines — with the red instead applied to the entire face!
Fans of the previous event need not be too worried by Minnie's commandeering, however, since the ridiculously-popular soundtrack song Tous en Train has remained — now with frequent interruptions from the new hostess.
Suddenly, the more regal, minimal Disney Characters' Express seems very dour indeed compared to this colourful new design. Though we do hope his nasty illness clears up, before the grand premiere on 4th April…
Photos, videos source as credited.