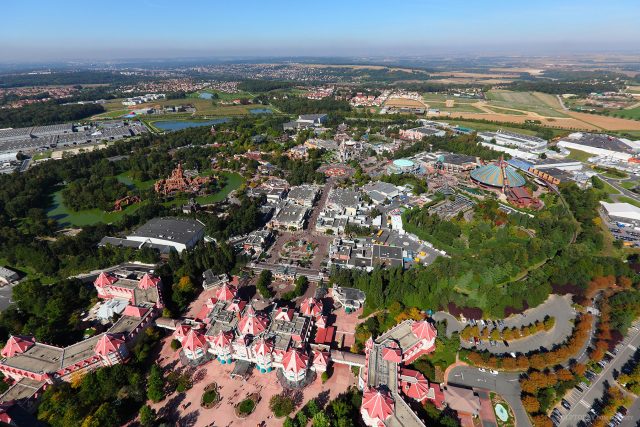 The Walt Disney Company has increased its ownership in the operating group behind Disneyland Paris by a further 9%, boosting its stake to 85.7% amid reports it aims to secure a complete takeover of the long-struggling company.
Disney has purchased this additional 9% of the Parisian company's stock from Kingdom Holdings, owned by Saudi Prince Alwaleed Bin Talal, who was involved in the resort's earliest 1994 restructuring.
With Disney's stakeholding in Euro Disney S.C.A. already at a heady 76.7%, up significantly following recent bailouts from its previously static 39.8%, this latest deal pushes its ownership to 85.7%.
Reports also state Disney will offer the same price — 2 euros per share — to remaining private shareholders. If they agree, this would leave only the further 1% stake held by Kingdom Holdings in its way to full ownership.
Upon the news, the share price jumped to a neat 2 euros, a 67% rise. For many more recent shareholders, a worthwhile payout indeed.
Euro Disney S.C.A. is the holding company of the group which operates the theme parks, hotels and other resort activities as Disneyland Paris. Set up in the late 1980s as a result of the agreement with the French government to build the resort, the group should have then paid rich dividends to The Walt Disney Company in licensing its characters and intellectual property.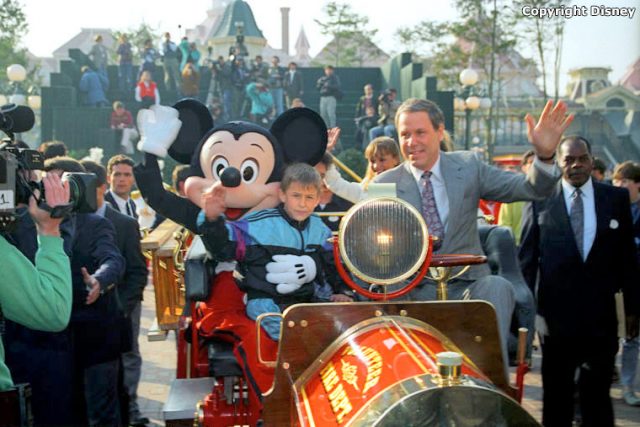 Former Walt Disney Company CEO Michael Eisner at the opening of Euro Disney Resort in April 1992
However, due to its ongoing financial difficulties stemming from huge construction costs and lacklustre income, the group has had to be frequently bailed out from these payments, the most recent being a two-year waiving of royalty and management fees from last year.
With the group facing another financial meltdown after the November 2015 events in Paris city centre and further European economic and tourism upheaval, this could now be the moment The Walt Disney Company steps in to take over completely.
For fans and visitors, the effects could be monumental. As the full owner of the resort, The Walt Disney Company would be not only empowered to make more major improvements to its visitor experience but compelled, too.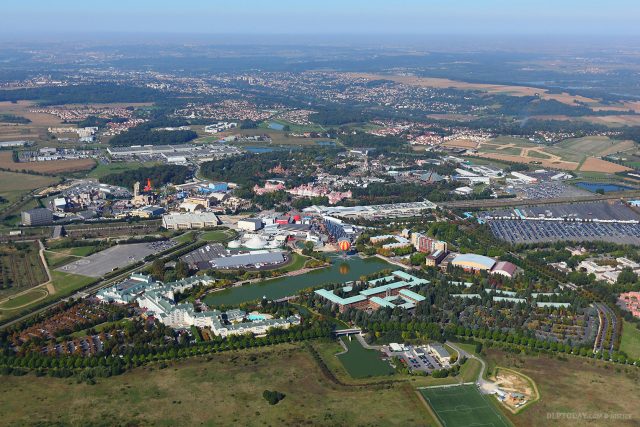 This albatross of poor management, poor investment and the world's poorest Disney park — namely Walt Disney Studios Park — would no longer be around someone else's neck; Disneyland Paris would finally become The Walt Disney Company's very own problem. Every single future unsatisfactory annual report would be a mark directly against the company and its ability to make its vast entertainment projects work. It would have to take action.
What would The Walt Disney Company have to do to fix Disneyland Paris? New attractions, major expansions and still-needed quality improvements all suddenly become viable options, not to mention even greater parity with the quality and product offer of the American resorts. This could be the start of a great big beautiful tomorrow, where everything changes.