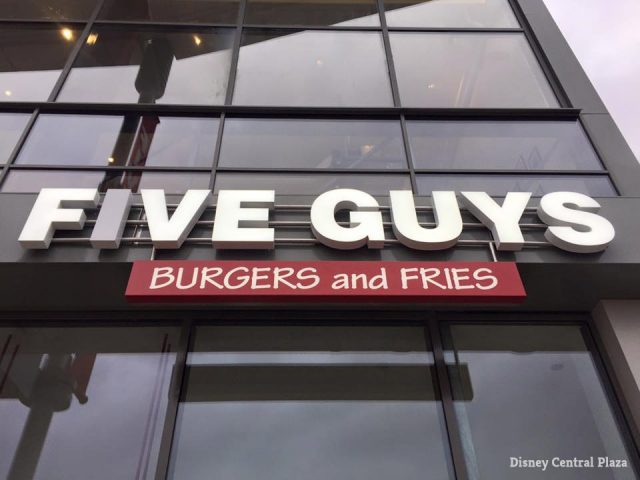 Five Guys' world famous hand cut fries and hand formed patties are just a week away from being served up at Disneyland Paris for the first time. The chain's new Disney Village restaurant looks set to open from early March 2017.
Though the American fast food giant has yet to announce an official date itself, and displays only "prochainement" — "soon" in its windows, several sources are reporting next Monday, 6th March 2017 to be the day its hallowed hamburgers arrive.
Update 28/2: Monday, 6th March 2017 is now confirmed by Five Guys France.
The new restaurant certainly looks ready — these photos from Disney Central Plaza show the area inside the modest 400m2 unit fully fitted out with Five Guys' standard interior look of red and white tiles.
It looks like a cosy space for a location as hot as Disneyland Paris, but for the foreseeable future the venue will be located slightly outside the busiest Disney Village area. Housed underneath the Gaumont Cinemas IMAX, next to Vapiano which opened last December, resort guests will have to leave and re-enter the main security-controlled area if they want to try the new diner.
Five Guys Disney Village will open from 11am to midnight, Sunday to Thursday, and until 1am on Friday and Saturday.
Combined with the much larger 1000m2 (German-owned) Italian chain next door, this development could provide a very tentative start to the long-awaited "second boulevard" of Disney Village, stretching directly outwards from the resort hub.
A second entrance to the RER and TGV stations has been planned for years on the land opposite, next to the Disney Village Parking structure, along with a new southern bus terminal on land nearby. Plans in the past have seen further land earmarked for a new Disney Hotel or major convention centre.
At the minute, the area is not particularly enticing to be in; windswept and newly coated in a drab grey paint, the sudden drop-off to undeveloped no-man's land from the towering IMAX is akin to the edge of a cliff. Could all these bowls of pasta and handmade burgers be the start of something bigger?