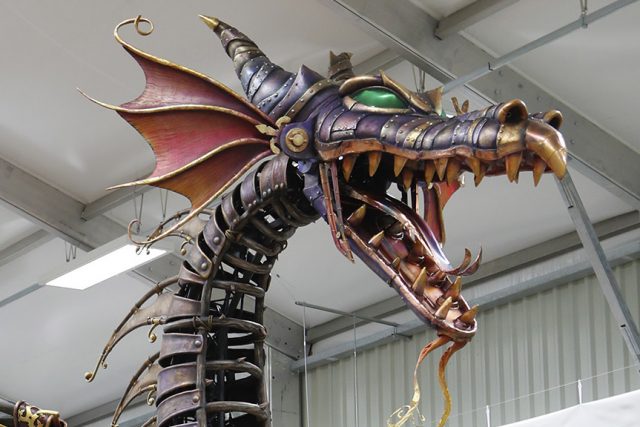 She's here. The Disneyland Paris version of the eagerly-anticipated fire-breathing Maleficent dragon Disney Stars on Parade float has arrived at the resort ahead of her 25th Anniversary launch.
This first photo shows the new "Discover Enchantment" parade unit stored backstage, ready for its 26th March 2017 premiere.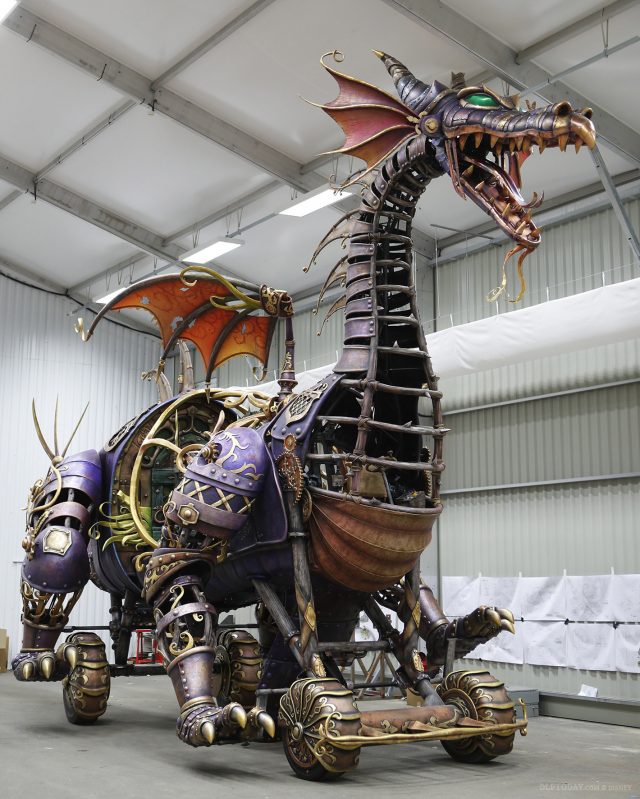 Despite being a twin of the Disney Festival of Fantasy Parade float in Florida, which has been featured throughout publicity so far, this is no identical twin — look closely and there's actually a great deal of difference between the two dragons.
For a start, the Disneyland Paris model appears more vibrantly coloured, with warmer-tinged copper details particularly around the face. The webs of the wings are noticeably a warm orange. Paris often chooses more saturated colours for its parks due to the less intense sun it receives for much of the year.
Some details are changed just to tweak the original. Maleficent's dragon ears (let's assume they're ears) are finer detailed, with colourful pinky-orange webs between them, instead of the more striking, abstract razor-sharp points of Florida's.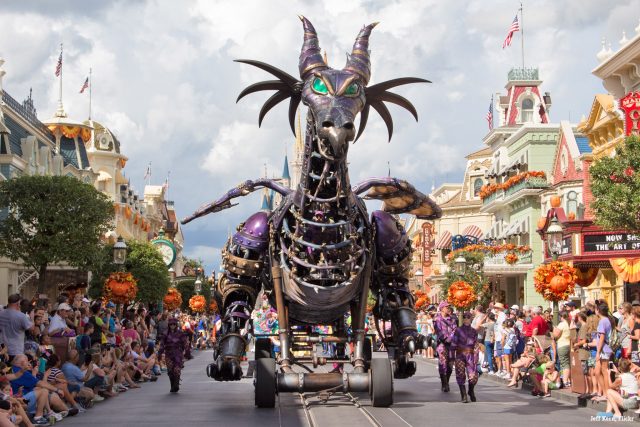 — Photo: Jeff Kern, Flickr
Much more detail can also be seen on the front legs, with simple metal-studded cuffs replaced with a finer kind of armoury. One of the best enhancements, though, must be the wheels — not just held on more detailed wooden props but concealed within properly-themed wheel arches.
Inside the Steampunk-inspired float, which is designed almost like the footplate of a steam engine, Paris also gets what appear to be green flames licking out of the boiler, complementing the other colours.
One similarity with Florida will remain: the float will be proceeded by Prince Phillip and the Three Fairies ("floating" with the same technology as their current Disneyland Paris parade appearance), fighting back as she progresses down the parade route.
This is now the fourth newly-constructed float for Disney Stars on Parade we've seen so far, after the three revealed last week.