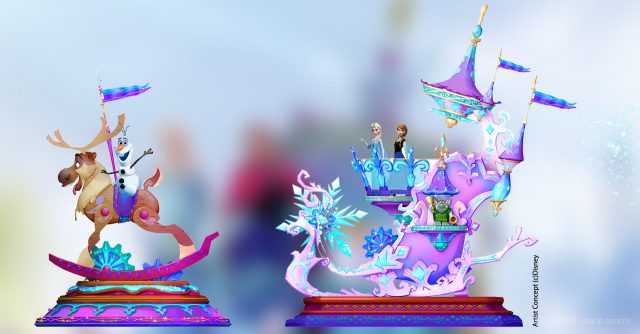 Disneyland Paris' 25th Anniversary new parade continues to be gradually unveiled, the latest reveal being full concept art for its Frozen finale float, showing snowman Olaf and reindeer Sven riding ahead of the main float.
Named 'Discover Wonder', the eighth Disney Stars on Parade unit will in fact consist of two separate floats, with Olaf riding a rocking horse-styled Sven, followed behind by a colourful blue and purple snowflake palace, featuring Anna and Elsa on a crystal balcony.
The floats have presumably been designed by Jody Daily, a popular Disney artist and float designer who has previously been linked to the parade.
This idea of having "units", which actually consist of several moving floats, seems to be a specific theme carried through Disney Stars on Parade.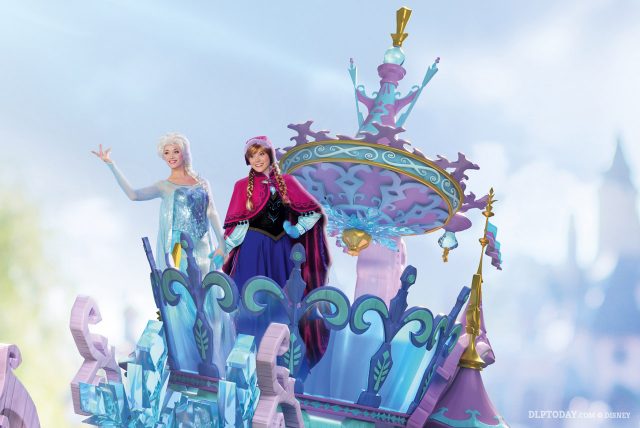 Only a small glimpse of the float was previously revealed
Rather than just singular, big floats, it will hopefully create a more dynamic environment along the parade route — more of a genuine, rambunctious procession — as well as making the cavalcade seem longer.
For example, we already know that 'Discover Imagination' will feature Peter Pan characters across two articulated float, while the fire-breathing dragon of 'Discover Enchantment' will only be part of a unit also likely featuring Prince Philip and the Three Fairies on the ground
• Previously — Discover all 8 Disney Stars on Parade floats – names and characters announced.
The final float itself also seems to have one last surprise: snow fluttering out into the air behind. We've experienced several floats with bubbles in the past, but none in memory that use a Main Street-style snow effect along the actual parade route.