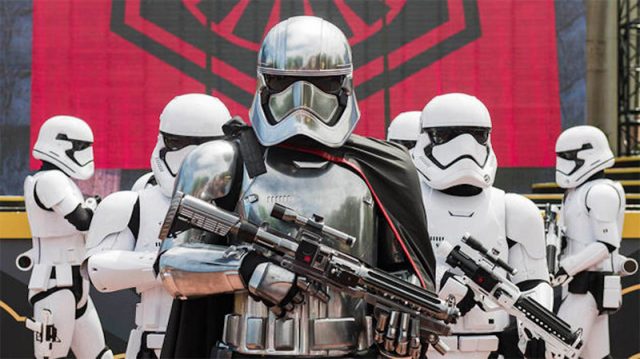 New Walt Disney Studios Park entertainment and Star Wars atmosphere, originally conceived for the upcoming Season of the Force, will now run throughout much of 2017, the official Disneyland Paris website reveals.
Three of the events are now listed as "Available until 30th September 2017 – dates subject to change" on the official event page.
However, the headline Star Wars: A Galactic Celebration nighttime spectacular, a projection show on The Hollywood Tower Hotel, remains exclusive to the season.
Nevertheless, this means the new Star Wars: A Galaxy Far, Far Away stage show celebration of the franchise, featuring countless characters, will run throughout much of 2017 at the heart of the park, on a new outdoor stage currently being constructed.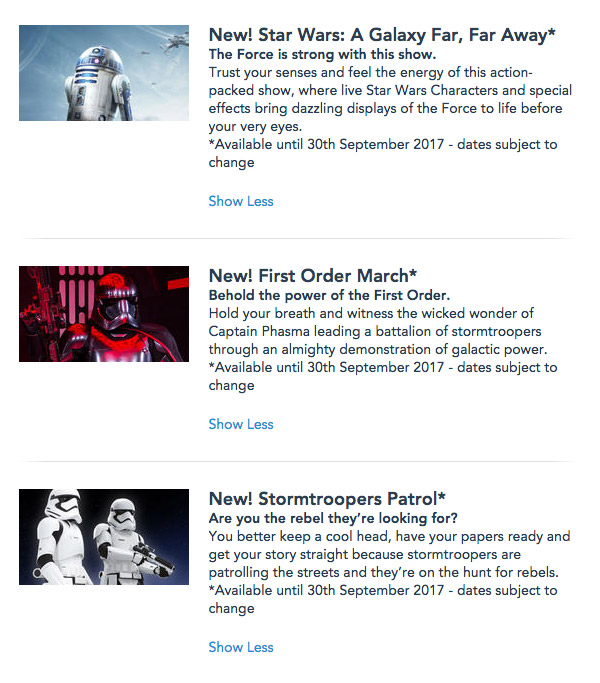 The First Order March will also continue at the park, as will Stormtroopers Patrol interactions throughout each day.
While this news is certainly good for the park's entertainment offering during the 25th Anniversary, and ensures the new stage and viewing plaza won't sit empty for much of the year, it does dilute the unique offering of Season of the Force itself.
The situation mirrors that at the American resorts, where special "Season of the Force" events were introduced only to become practically permanent. It makes sense, to increase Star Wars appeal across the year, but wasn't Season of the Force meant to be a saving force for Disneyland Paris in its troublesome deep winter months?
Now, the only reason to visit specifically during these cold months, will be for the nighttime spectacular. Will it be worth it alone? And what for the already-confirmed 2018 season — scheduled for similar dates — to make it unique, when almost all its events and new attractions will have been running much of the year already…