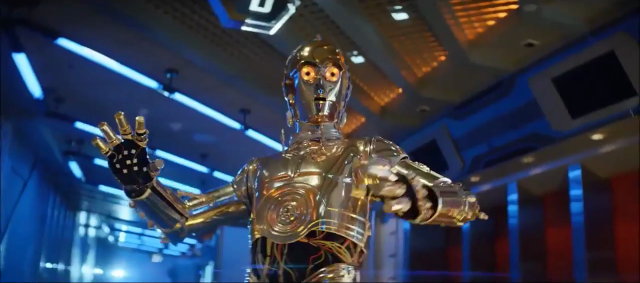 Disneyland Paris has launched the media campaign for its 25th Anniversary celebrations, with new video advertising across international audiences on TV and online.
As most British families tuck into Boxing Day leftovers and snooze off their Christmas excess on the sofa, Disneyland Paris isn't sleeping. The prime time for booking next year's holidays will soon be upon us and the resort has seized the opportunity to launch its 25th Anniversary campaign.
Watch it here:
• Previously — Disneyland Paris 25th Anniversary News & Articles
Following the tagline of "It's Time to Sparkle" and all the starry-themed new additions, the commercials use the idea that "the one thing that shines most of all is the sparkle in their eyes" — that watching the events through a child's eyes is the greatest show of all.
This first edition, released on the Disneyland Paris Facebook and Twitter feeds, features images of the fire-breathing Maleficent float in Disney Stars on Parade, C-3PO surprising a young Star Wars fan at Star Tours: The Adventures Continue and of course the fountains and fireworks of the new Disney Illuminations nighttime spectacular.
Playing exclusively to their "Disney Families" target audience of adults with young children, the adverts could risk undoing all the good work done by the "Also for grown-up kids" campaign. There's not a single visitor shown who doesn't have children, and no-one over the age of 40. Sorry, grandpa!
Though the intent is good, the actual results of putting sparkling CGI effects onto children's eyes could come across a little… sinister? And advertising parents putting children up on their shoulders? Well, that's one way to ruin Disney Illuminations for everyone else…
Those grumbles aside, it's a solid and vibrant campaign pulling on all the strengths of the 25th Anniversary year ahead. Come 26th March 2017, there'll hopefully be sparkles in all our eyes, not just the kids.
• Book Now — Get up to 2 Nights & 2 Days Free for Disneyland Paris 25th