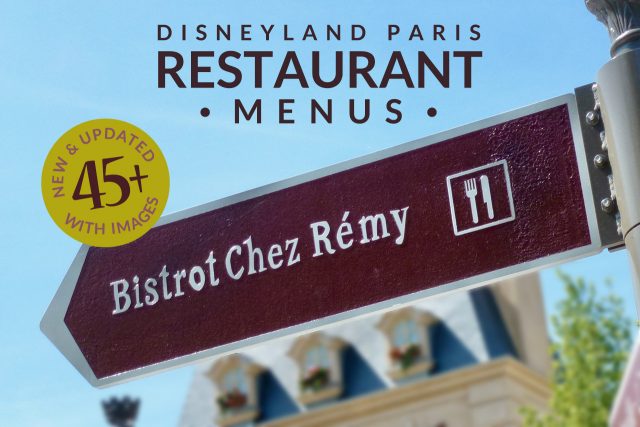 Great news, hungry Disneyland Paris visitors: our Restaurant Menus pages have just received their single biggest update ever, bringing online over 45 new and updated menus — now with clear images of the actual menus themselves.
How's that possible? Because this week Disneyland Paris flipped the switch on its own major website update, at last adding full PDF menus to the pages of almost all its Table, Buffet and Counter Service dining locations.
But this also presents a dilemma. Should we continue to provide restaurant menus here at all, if the official website is now covering them?
Since this service was added to DLP Guide over 5 years ago, it has always been one of the most popular sections — but also one of the hardest and most time-consuming to keep up-to-date.
Being able to now provide the menus without having to walk around every restaurant and take photos, then spend hours typing up and updating each one, is quite a revolution.
So let's make the most of it — there are still things we can add to what the official website offers, after all.
Over there, you have to click through each dining location then click the not-too-obvious "View Menu" to open the PDF file. Some of these currently seem slow and stubborn to load. To access another menu you then have to go back to the full dining list and repeat. There's also no information on individual pages about which Meal Plans are valid at the restaurants.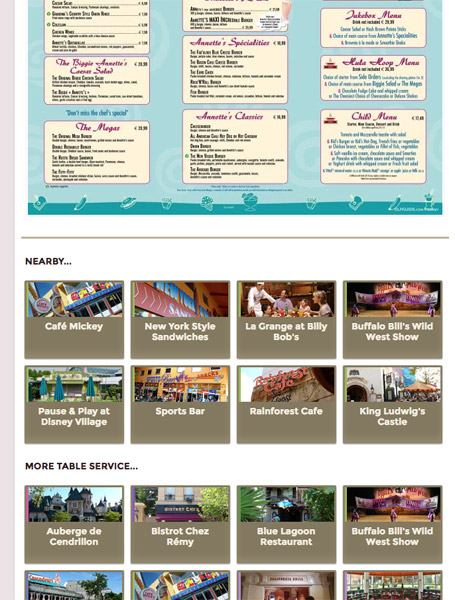 Here, to offer an alternative way to browse the menus, each page now presents the menus as images which can be viewed directly on the page or expanded to full size for a better look.
Both at the top and bottom of each page, you can easily access every other menu within the same category, e.g. Table Service, as well as other "nearby" menus.
There's also more menus here than the official website: resort locations such as Rainforest Cafe, which aren't operated by Disney, as well as more minor locations such as Café de la Brousse which they don't seem to be covering on the official website. A new list of "Special Menus" has also been added, currently covering the special Christmas Eve and New Year's Eve dinners.
Like the Calendar and other sections of DLP Guide, the idea is still to bring all the information together in one place and present it in the simplest and easiest to access format as possible. An update of the main Restaurant Menus listing page is planned; to make restaurant locations and meal plans clearer, for example.
But this is just the beginning. Now that such a great deal of time doesn't have to be spent trying to collect and update these menus, that's time which can in future be put into improving the page design itself, or improving other areas of the website, or even adding new content. Hooray! We're only just getting ready to sparkle…