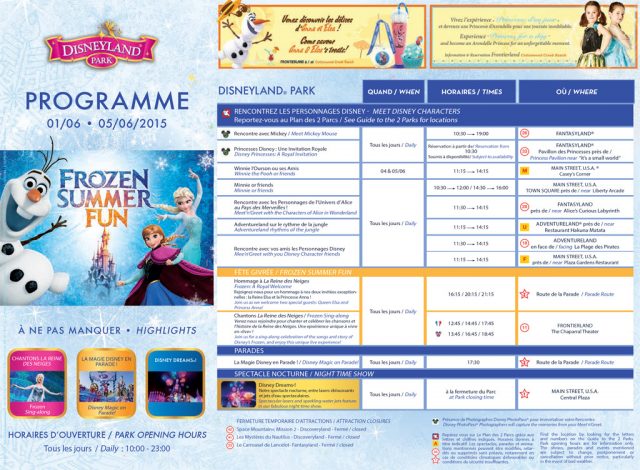 The first Frozen Summer Fun park programme has been published by Disneyland Paris, giving showtimes for the first week of new Frozen events in Disneyland Park.
From the official launch day on Monday 1st June through to Friday, Frozen Sing-along will be presented in French at 12:45, 14:45, 17:45 and in English at 13:45, 16:45 and 18:45. This high-tech stage production at The Chaparral Theater in Frontierland will be increased to an impressive twelve shows per day at weekends, and twelve daily in July and August, according to the earlier press release.
Meanwhile, the mini cavalcade Frozen: A Royal Welcome, with Queen Elsa and Princess Anna, will be presented at 16:15, 20:15 and 21:15. Perhaps much later in the day than expected for a "welcome" procession, all but the first outing will take place after the sisters' appearance in Disney Magic on Parade! at 17:30.
And don't forget, from today at park closing time Disney Dreams! features a new Frozen scene, replacing the Brave scene introduced in 2013.