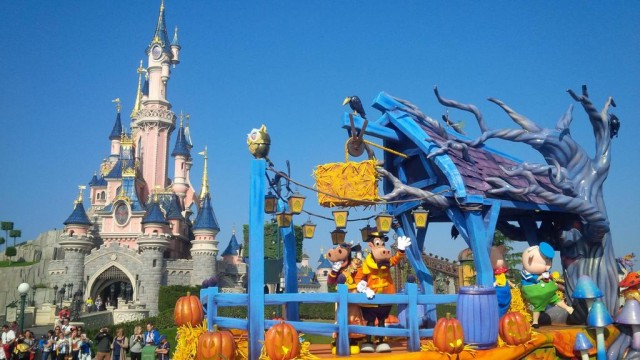 Mickey's Halloween Celebration began its second season yesterday with a brand new float — the previously revealed "Raise the Rafters" barnyard number.
Alongside character rarity Clarabelle Cow, the Disney's Halloween Festival parade now also has another unusual addition from 1930s Disney cartoon shorts: her boyfriend, Horace Horsecollar, seen for the first time at Disneyland Paris.
• Previously — New Mickey's Halloween Celebration "Raise the Rafters!" float revealed – concept art
The Three Little Pigs, themselves originating in Disney legacy from 1933, occupy the blue and purple barn on the float, pictured here by DisneylandBerry, with ochre leaves covering the base. Fun details include an owl, a black cat and a spider falling from the rafters.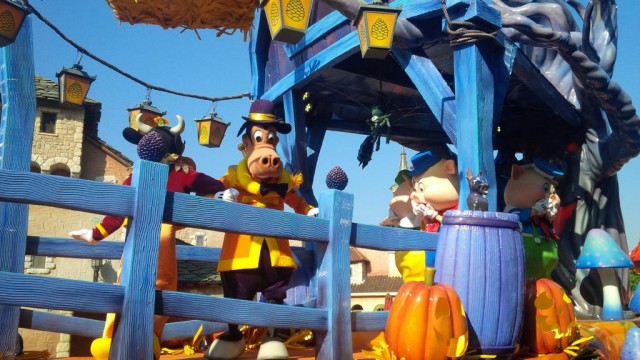 Colourful toadstools sprout from the rear of the new float, which is followed by a new unit of oddly beautiful mushroom dancers, to add to the many other weird and wonderful costumes seen in this relatively short cavalcade, performed three times daily.
Sandwiched between the Duck-filled opening float and Mickey and Minnie's final unit, the new float expands this small parade further into an even more worthwhile, top quality seasonal addition. Will they stop here? Hopefully not — even though this probably won't ever become a full-length parade, there's surely scope to expand it a little further and certainly a rich back-catalogue of Disney barnyard characters to rediscover.
Watch a video of yesterday's first performances by DLP Welcome below…
PHOTOS DisneylandBerry, VIDEO DLP Welcome