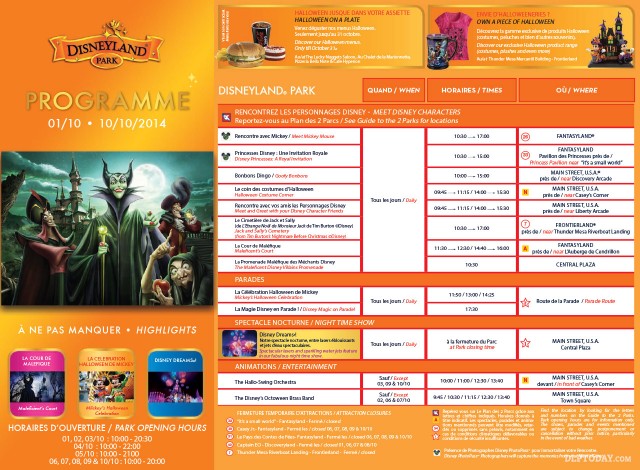 Mickey's Halloween Celebration, Maleficent's Court and the Maleficent Disney Villains Promenade are all on the latest official Disneyland Park Programme, published today for the first ten days of Disney's Halloween Festival in 2014.
The Disneyland Paris shows and parades schedule confirms that from 1st October the day will begin with the Maleficent Disney Villains Promenade, arriving on Central Plaza at 10:30am. Said to feature the much missed "Dreams of Power" float from Disney's Once Upon a Dream Parade, the event will of course star Maleficent and her "Halloween Gang" of Disney villains.
That same gang will then take over Maleficent's Court, in the Sleeping Beauty Castle Courtyard, with meet 'n' greets from 11:30 to 12:30 and 14:40 to 16:00. The first character times for Goofy Bonbons, Halloween Costume Corner with Minnie Mouse and Jack and Sally's Cemetery are also listed.
• PDF — Download the latest Disneyland Paris Park Programme
• Guide — Discover the DLP Guide to Disney's Halloween Festival
Taking place three times daily, Mickey's Halloween Celebration is scheduled for 11:50, 13:00 and 14:25 — a good move for Disneyland Paris to maximise this colourful Harvest cavalcade. Meanwhile, live music will be provided by Disney's Octoween Brass Band on Town Square and The Hallo-Swing Orchestra near Casey's Corner.
Meanwhile, Walt Disney Studios Park loses out with Disney's Stars 'n' Cars dropped from the listings. The former parade had already become just a meet 'n' greet event on Place des Stars in recent months and is now off the current schedule entirely.
One piece of good news worth noting for the Studios, however, is that Meet Spider-Man continues its residency in Backlot. His original summer departure date already cancelled, the Marvel superhero now looks set to remain indefinitely into autumn.