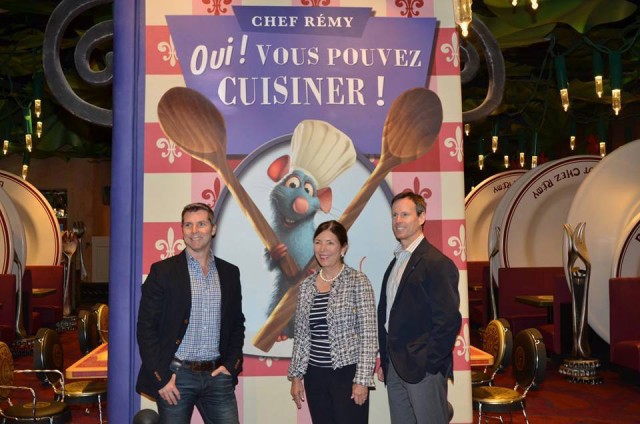 Reservations are now open for Bistrot Chez Rémy, the new fully-themed Ratatouille restaurant at Disneyland Paris, and yes — there's ratatouille on the menu!
Pricing details have also been revealed, with a standard set menu starting at €29.90 for a starter and main course, or €39.90 for a starter, main, dessert and drink too. A children's menu is said to cost roughly 17 euros.
And the menu itself? Mais, bien sûr…
Starter

Mixed leaf salad with cheese and an olive oil, balsamic and sesame vinaigrette

Main Course

Cut of grilled beef, homemade ratatouille, French fries and the chef's sauce
Roast cod, homemade ratatouille, crushed potatoes and a beurre blanc sauce
Vegetable, tofu and white bean casserole

Dessert

Rum baba
Chocolate mousse
Fruit salad
Apple tart
Tiramisu
Chocolate cake with crème anglaise
Brie de Meaux from Trente Arpents Farm (Rothschild Estate) with fruit bread and vine peach jelly
A vegetable soup could replace the salad starter in winter.
To book your table, call Disneyland Paris Restaurant Reservations on +33 (0) 1 60 30 40 50 — find more information about Restaurant Reservations on our Planning guides here.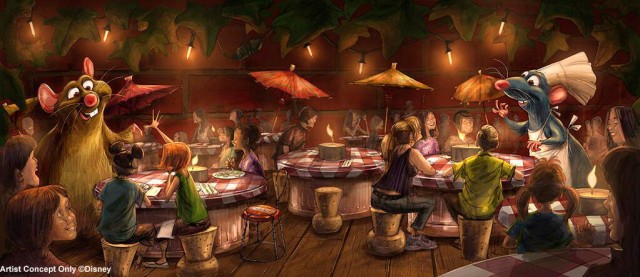 Located next door to and within the same building as the attraction Ratatouille: L'Aventure Totalement Toquée de Rémy, with views through to the ride unload area, the "upscale but light-hearted" new dining location takes the theme not of Gusteau's or Le Ratatouille but Rémy's more fun bistrot up in the rafters, as seen at the end of the film itself.
Despite that backstory, this won't be a character dining location — no appearances by Rémy and Emile are planned. Part of the reason for that will be the quick turnover of tables — as little as 45 minutes is the aspiration. That's naturally a good thing for Disney, freeing up space for fresh punters in what's expected to be a hugely popular venue, but also more in line with what most guests actually want: a quick, but "proper" meal, and no hanging around for "l'addition" — the bill — when you want to be getting back to the park.
Bistrot Chez Rémy is the first Table Service restaurant in the whole of Walt Disney Studios Park and — perhaps even more startlingly — the first restaurant of any sort within its biggest land, Toon Studio. A previous Ratatouille "living character" experience at Restaurant des Stars in Production Courtyard, where a miniature animated Rémy figure was presented to tables, has now ended. It remains to be seen what raison d'être that otherwise largely nondescript buffet location may now find for itself.
Join DLP Today at 1pm this Sunday, 22nd June for a LIVE preview of Bistrot Chez Rémy, part of our Ratatouille: The Adventure Grand Opening LIVE weekend schedule.
• Get a taste of the magic before you go: Find Restaurant Menus for every Disneyland Paris location at DLP Guide — look out for a full update of every menu beginning next week!