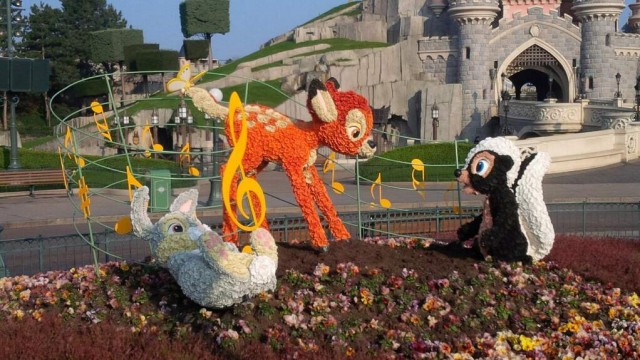 Less than three days to go before the first 'Swing into Spring' season begins at Disneyland Paris, the new decorations on Main Street, U.S.A. and Central Plaza are already taking root to add a burst of fresh colour to Disneyland Park.
Just days after they were officially revealed in final concept art, the first arrivals were the colourful Central Plaza "topiary" displays of favourite Disney animals, interacting with musical notes and instruments. Each one takes the centrepiece of one of the four Central Plaza flower beds, surrounded by a fresh display of much less synthetic blooms.
Bambi, Flower and Thumper, The Aristocats Marie, Berlioz and Toulouse, and The Lion King Simba and Nala are pictured here by @DisneylandBerry, who has been sharing these updates of the growing Spring decorations each morning. Three of the 101 dalmatian puppies are in place, too, completing one of the best Central Plaza overlays in many years.
Meanwhile, down in Town Square the theme is more Mary Poppins. The 1964 film celebrates its 50th anniversary this year, and is of course a natural fit for a springtime "Jolly Holiday".
As the concept art depicted, the two flower beds either side of Main Street's gazebo have become home to full-size floral topiary figures of Mary, Bert, Jane and Michael.
The Town Square Gazebo itself soon followed, being decorated with colourful garlands of synthetic flowers, musical notes and a large butterfly for its "Balade Printanière".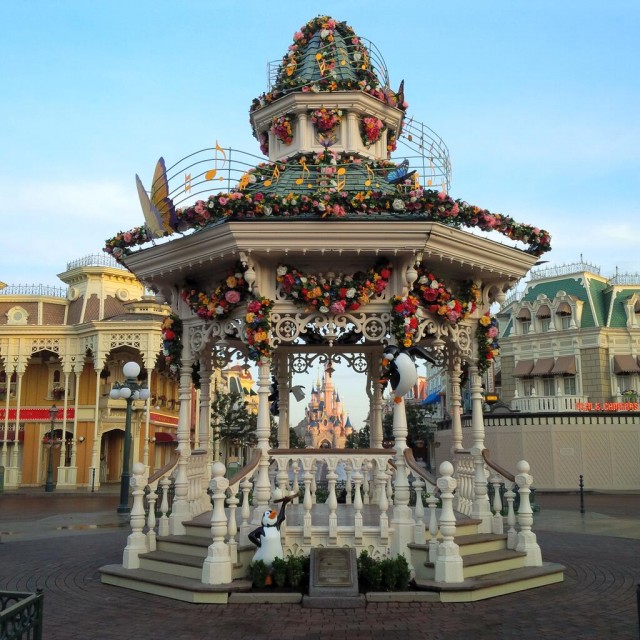 Perhaps a simple floral overlay would have been enough and more in-keeping with the time period of Main Street, but at least, thank heavens, the psychedelic multi-coloured music staff of the concept art was changed to a more subdued green.
Penguin waiters are even less in-keeping with Main Street, of course, but they add some fun to the scene and are by far one of the least offensive things ever done to the poor gazebo. And they're penguin waiters, so it's impossible to dislike them.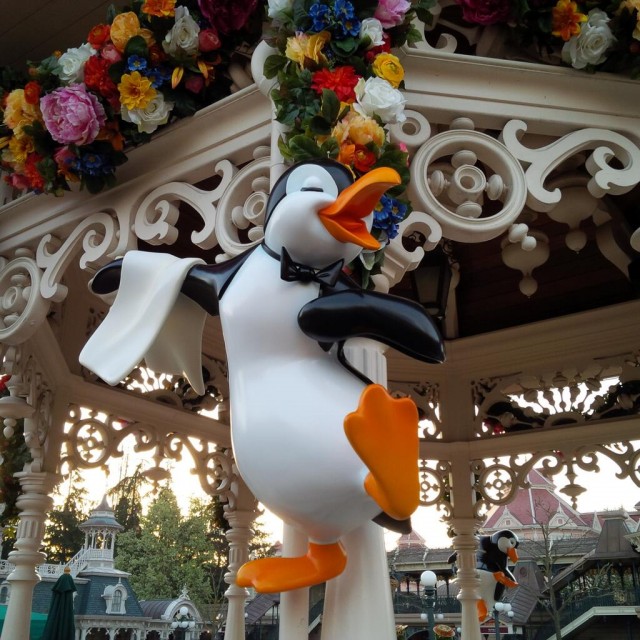 Main Street, U.S.A. is home to almost all the Swing into Spring decorations, the furthest they spread into the park being only Le Théatre du Château. Here, the successful Halloween overlay of recent years has been echoed for Spring with daisies wrapped around the columns and a new green podium stage, ready for the main Disney's Spring Promenade event which will take place both here and around Central Plaza.
It's simple and tasteful enough, and again good to see the stage finding a new lease of life after some years of dilapidation and uncertainty. Now to see how it will be used…
PHOTOS @DisneylandBerry (Twitter)