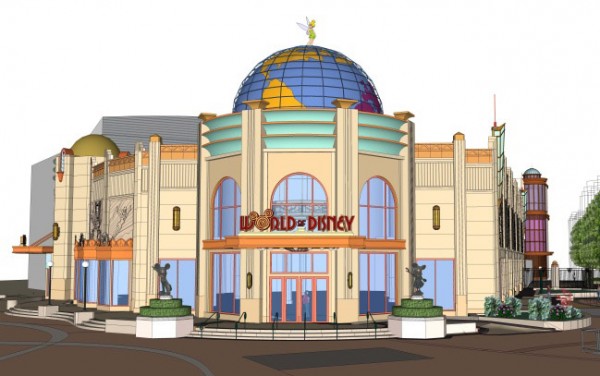 World of Disney, the new flagship store at the hub of Disneyland Paris and entrance to Disney Village, has finally had its opening date set in stone: 12th July 2012! An unusual Thursday opening, then; perhaps a nod to the 12th April, or a chance for the newly-opened store to prepare itself ahead of summer weekend crowds? At least this puts an end to confusion over the date, which has been moving back and forth between June and September for the past few months. Work is suddenly flying ahead on the exterior, which will eventually end up looking like the visual above.
This new concept art, first included in the 'Disneyland Paris: 20 Years of Dreams' book, shows the final design of the Hollywood Art Deco-inspired exterior and its signature globe dome. You might remember from earlier concept art that the original idea was for a second half of the globe to continue inside the store itself, visible through the windows to create the effect of a floating Earth. Now, just the dome on top is part of the final design, with the double-height atrium inside to be decorated with stars; its centrepiece a hot air balloon carrying the Disney characters to destinations around the world, which will be featured in different areas of the store's interior design.
The new design also clearly depicts how the boutique is raised slightly from the hub itself, with a small set of stairs around the front and sides to offer some protection from the surge of visitors at park closing. Naturally, a ramp is also provided on the right-hand side.
There, we also see the beginnings of an intriguing new perimeter gate. Rumours have suggested that the opening of World of Disney could see changes to the operation of the resort hub and its security barriers, perhaps allowing guests to go between the parks and Disney Village without leaving the security-controlled zone, though exact details of this are unconfirmed.
Along with the opening date announcement, Disneyland Paris has also shared photos of two important arrivals, all the way from New York City: Mickey and Minnie Mouse!
These two statues, which now sit either side of the main World of Disney entrance in Paris, were salvaged from the marquee of the former World of Disney store on Fifth Avenue in New York, which closed on 31st December 2009.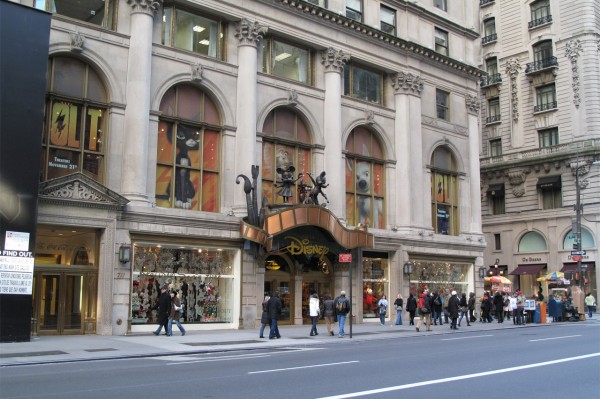 Photo: cre8or (Flickr)
Disney moved to a new retail space in Times Square in late 2010, branded as a general Disney store, leaving only the two — and very soon to be three — theme park locations. Of which, Paris certainly has the most beautiful, unique exterior. But isn't that always the case?
Press release follows…
WORLD OF DISNEY : QUAND LE SHOPPING DEVIENT UNE INVITATION AU VOYAGE

Dès le 12 juillet, la nouvelle boutique World of Disney ouvre ses portes au public. Implantée à l'entrée du Disney Village, elle sera la troisième boutique du nom à voir le jour dans un parc Disney après la Floride et la Californie.

Avec plus de 1400m² d'espace de vente, World of Disney inaugure un nouveau monde où le shopping devient une invitation au voyage. Unique, dans la plus pure tradition Disney, World of Disney est le lieu magique où Mickey et ses amis ont rapporté de leurs périples aux quatre coins du monde les meilleurs produits de chaque catégorie à l'intention des visiteurs fans de Disney.

Inspirée du style Art Déco, l'architecture du bâtiment de World of Disney se veut un hommage aux grands magasins de Paris, et contribuera à en faire le fleuron des boutiques de Disneyland Paris.

Lieu : Disney Village
WORLD OF DISNEY: WHEN SHOPPING BECOMES AN INVITATION OF DISCOVERY

From 12th July, the new World of Disney boutique opens its doors to the public. Located at the entrance of Disney Village, it will be the third boutique of this name to come to life at a Disney park after Florida and California.

With more than 1,400m² of retail space, World of Disney inaugurates a new world where shopping becomes an invitation of discovery. Unique in the purest Disney tradition, World of Disney is a magical place where Mickey and has friends have gathered together their favourite products in every category from the four corners of the earth for everyone from visitors to Disney fans.

Inspired by the Art Deco style, the architecture of the World of Disney building pays homage to the "grand magasins" of Paris, to help make it the flagship boutique of Disneyland Paris.

Location: Disney Village