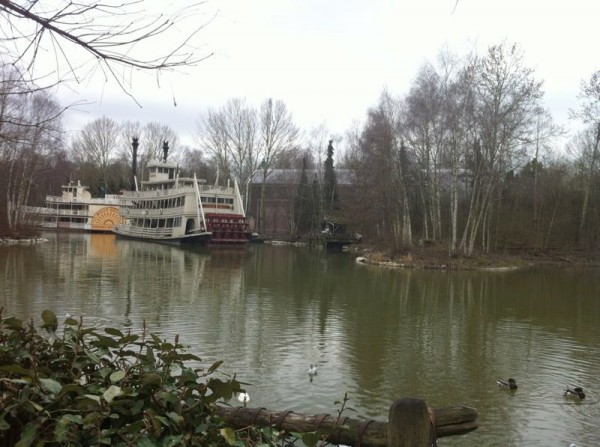 Poor Old Joe: so engrossed there on his ramshackle pier, waiting for the catch of the day, that he's failed to notice the towering extension put up by his Thunder Mesa Riverboat Landing neighbours next door. In preparation for a sorely-needed complete rebuild of the Mark Twain, following that enjoyed by companion on the rivers Molly Brown last year, the entire drydock at the back of the Rivers of the Far West is in the process of being enclosed in a temporary hangar-like structure.
Apparently being built by the firm De Boer, specialist in such constructions, the enclosure is being covered by a themed scrim created by a graphic designer working for Disney. With fake timber walls and large loading bay doors, this "trompe-l'œil" boathouse deceives the eye as a wharf for cargo loading. Details in the design, though hard to see clearly from the opposite riverbank, include "Deliveries" written across the false door and a surprisingly detailed "Notice" of some kind. The large number "2" above the door is reminiscent of the engine shed for Big Thunder Mountain nearby.
By comparison, the year-long Molly Brown refurbishment saw the far from ideal situation that the boat was fully stripped down and rebuilt in full view of passing guests, with only a scant covering of scaffolding and tarpaulin for cover. It's also possible that, by shrouding the entire drydock with a roof, refurbishment work could be carried out in all weather, with fewer delays.
Both boats are still parked up here at the back of the river, out of service, but Molly Brown will return to operation from 24th March when the attraction finally re-opens, having been closed for the whole of 2012 thus far. Besides the work ongoing here, the deck of the riverboat landing itself has been completely rebuilt with fresh wood. Once allowed back on-board for a cruise around the waters, we'll be able to get a closer look at the detail of the new wharf.
Reports from those close to the project suggest that the "hangar" will stay in place for at least two years, so Old Joe had better get used to his temporary — but not so temporary — new neighbour.