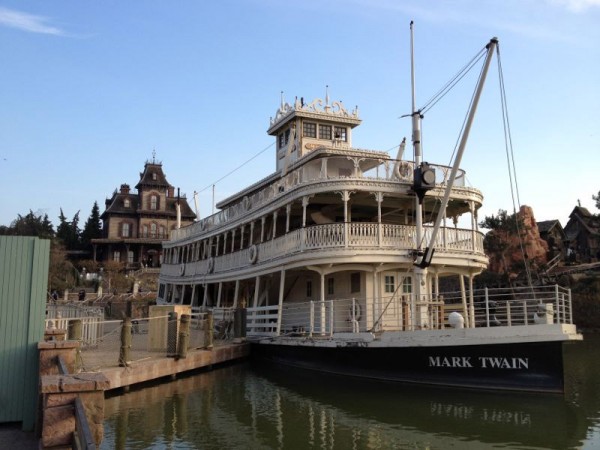 Ever since we stepped off the near-complete, beautifully restored Molly Brown exactly a year ago and the Mark Twain pulled up in her place to continue regular service, this grand old riverboat has sadly looked more than a little worse for wear by comparison. Need for restoration isn't quite so drastic, though, that his chimney stacks fell off, of course — the Mark Twain is merely preparing himself to bed down inside Frontierland's new, covered drydock which we reported last week.
The roof of that hangar-like wharf, while imposing enough next to Old Joe's fishing pier, is certainly not high enough to accommodate the Mark Twain with his famous twin funnels intact. From here, he reversed around the Rivers of the Far West and back into the refurbishment dock. Molly Brown will resume service from this Saturday 24th March, the first to enjoy the freshly-relaid landing pier and fully repainted Thunder Mesa Riverboat Landing itself.
Mark Twain's refurbishment is due to be just as thorough — and lengthy — as Molly Brown's epic year-long rebuild. Damage and decay to the boat, though nowhere near as bad as his sister ship endured, is clear in the photo above. Though the ship, a reproduction of the original Mark Twain Riverboat at Disneyland in California, has seen numerous refurbishments over its lifespan, this will be the first full-scale restoration in its 20 year life so far.