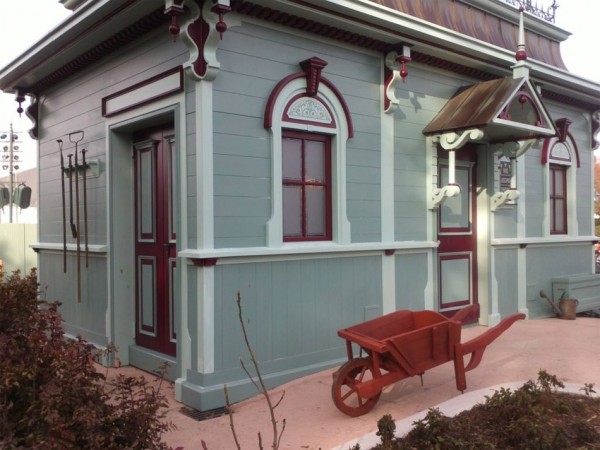 "Story is king" goes the mantra. And so, satisfied that the new control booth for Disney Dreams! fits stunningly well within its Central Plaza parkland environment in this update from last week, our next thought turned to how, story-wise, its prominent position within the gardens could be explained away. "With its wooden trellis arch and location right in the middle of Main Street's Central Plaza park, perhaps we could imagine it's the gardener's lodge — rather than a high-tech show control booth soon to be sending fountains, fireworks and lasers soaring," we mused. Well — let us imagine no longer, that's exactly what the Imagineers had in mind!
This week, new props have suddenly arrived all around the building: a wooden wheelbarrow out the front, a watering can under the porch, tools and shovels hung up at the side. Several wooden planting boxes and barrels now also sit beside the booth, ready to be filled with flowers or shrubs. Just to fully confirm the backstory, a plaque next to the entrance reads plainly "Parks Landscaping Department". Given the amount of work needed to be done around the plaza to prepare for the 20th Anniversary spectacular, the "landscaping" part, at least, isn't far wrong.
As @CreativeAlan suggests, tweeting a reply to these photos by @InsideDLParis, perhaps a name such as "Flower Street Gardeners" would have been more imaginative and less obvious in terms of story than the slightly overstated "Parks Landscaping Department". But the fact that there's a story at all, for a simple show control building, can only be congratulated.