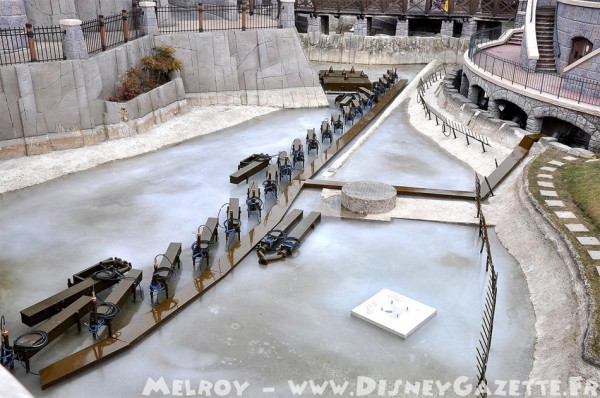 The Disney Dreams! are well on their way, and the most anticipated element of this all-new nighttime spectacular surely has to be: the fountains. A show made of jumping water in the castle moat once seemed a thing of fantasy but, as these latest photos from DisneyGazette.fr confirm, it's fast becoming a reality. Technical equipment low litters the entire moat of Sleeping Beauty Castle, dotting its length with mysterious brown boxes and running a ring of water jets around its perimeter.
Even as rainwater has frozen solid on the drained bed, work hurries ahead to install the piece of this 20th Anniversary spectacular. So what exactly are we looking at? As expected, it's a more modest array of wet effects than the enormous (and almost entirely water-based) World of Color, and the fountains installed so far can roughly be grouped into three types of kit…
First up: those long, rectangular boxes, with a bronze spout poking out one end, will be the show's main fountains. Creating a vertical wall of water running across the width of Central Plaza, extending all the way from the entrance to La Tanière du Dragon to the wishing well and Le Théâtre du Château, they will likely be illuminated from below using a ring of colour-changing LED lights fixed around the spout. There's a chance some of these 40-or-so fountains will have different capabilities, perhaps the ability to move, as their set-up seems to slightly differ in one or two places.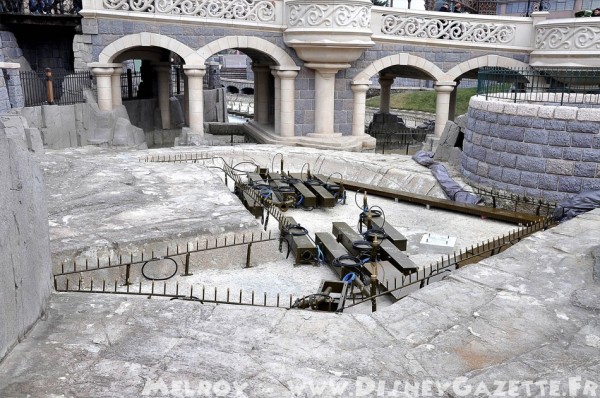 Meanwhile the moat, usually a protective ring around its neighbouring fortress itself, has been encircled by curious and very long rods of smaller spouts. Connected via a single pipe and tube, there are three of these installations with two on the left side of the drawbridge (either side of the Dragon's bridge) and one larger array on the right (seen in the first photo above).
Likely to be much lower powered, these spouts will probably be used to add "bulk" to the base of the water display, either as jets of water or more likely a mist effect. Rather than a line of solitary fountains shooting up from the castle moat, this should create a more magical haze of water coming to life in the moat, which can itself be illuminated to add dramatic effect.
Finally, two huge brown boxes at the far ends, either side of the display, are easiest to decipher. These high-powered jets come in two sets of six fountains, their workings specially enclosed as one complete unit. Apparently capable of shooting at least as high as the castle itself (!) we're guessing thanks to compressed air, another technique brought in from World of Color, they are arranged as five fountains around a central, tallest jet. These incredible fountains were highlight in pink on the show scene model, below, revealed in the recent promo video.
Again, rather than having the castle stand solitary, these tall jets matching its height will help to "bulk out" the spectacle, making it a far more impressive and immersive experience.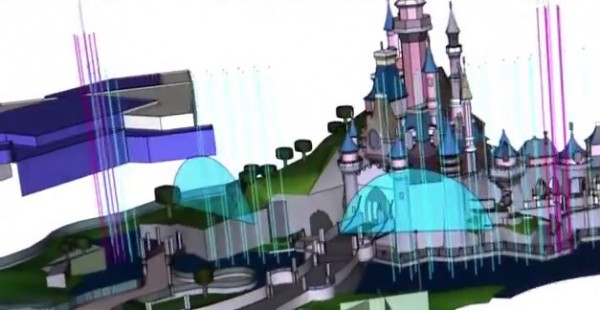 A major point of difference with World of Color is that all these fountains have been fixed directly to the concrete bed of the moat. In California, the vast expanse of fountains is laid out across two platforms capable of being lifted out of the water for maintenance, rather than having to drain the entire Paradise Bay lagoon. In Paris, luckily, draining a smaller, shallower fairytale moat is much less daunting task.
If only the same could be said for the challenge now: correctly wiring up and testing each of these new fountains, in time for April 1st!