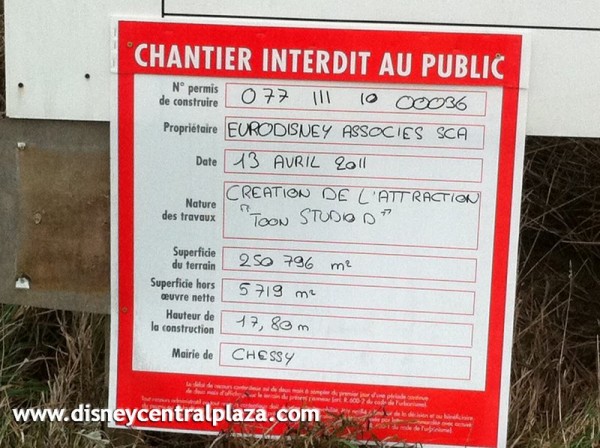 It turns out, a construction permit really can be this exciting to see. A mere two days after The Walt Disney Company agreed to loan Euro Disney S.C.A. funding of €150m for park expansion, a fresh "permis de construire" has appeared at the rear of Walt Disney Studios Park for a project ostensibly titled "Toon Studio D". This can only mean one thing: the Ratatouille dark ride is ready to go!
From the first rumours back in 2008 to the first planning application in 2009, apparent special effects testing in 2010, then final confirmation from Disney, concept art and planning permission and a visit from John Lasseter in 2011, this has been one long project. With today's new permit signalling that construction is imminent at the Studios, it could be around another two years until the attraction opens, such is the average construction period for a large Disney attraction. All hopes are now set on 2014 for a grand opening, providing the perfect pick-up from what might be expected to be a two-year 20th Anniversary celebration, as the previous 15th, to maximise the "anniversary" draw.
The permit also reveals that the new showbuilding will stand 17.8 m tall with the surface area of construction totalling 5719 m2. For comparison, RC Racer reaches a height of 24.8 m, while the vast "it's a small world" showbuilding covers around 4000m2. The date of 13th April 2011 coincides well with the publication of concept art and planning documents last May (above), which gave a very detailed look at the exterior of this new "Parisian quarter" but very little clues as to the attraction which will lie inside its walls. Rumours continue to point to a primarily projection-based experience, likely in 3D, likely utilising a "trackless" ride system first used at Pooh's Hunny Hunt in Tokyo in 2000 and conveniently due to be used for Hong Kong Disneyland's new Mystic Manor dark ride, due to open late 2013.
Almost more important than the dark ride, for a park so starved of facilities as Walt Disney Studios, will be the restaurant incorporated into the showbuilding itself. As we've hinted in the past, this probably won't be the stuffy Gusteau's dining experience you might have expected, but a rather more informal and fun "rat-sized" restaurant as imagined at the end of the film itself. Despite much investment in attractions, a short-sighted lack of dining provision is one of the key reasons why the Studios' opening hours remain cut short even in peak seasons.
Euro Disney S.C.A.'s first quarter revenues announcement on 7th February could be a good moment for the company to confirm the project. Though given past experience, don't expect anything more than a black and white footnote to trumpet what may well be the most exciting development for the Studios in all its beleaguered ten years. Something unique to the park, technologically advanced, classically Disney and inclusive to all ages. Come on Rémy, surprise us!