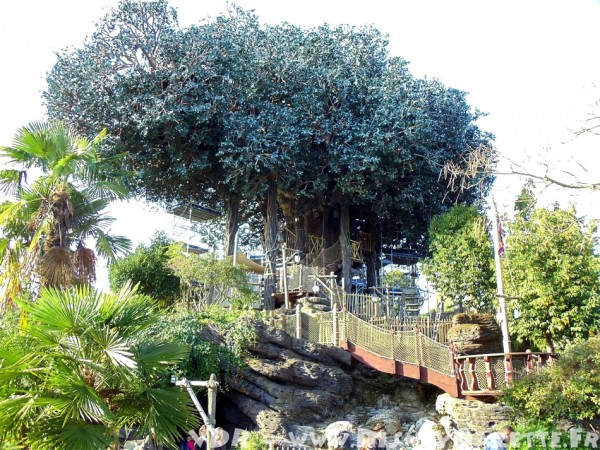 Great news, treehouse fans: The Swiss Family Robinson have finally begun their restoration work at La Cabane des Robinson. Closed for much of the year, the Adventureland walkthrough became a hot topic as fans debated the reason for its closure. With these recent photos by DisneyGazette showing scaffolding amongst its branches and a large amount of new bamboo wooden railings winding their way up around the trunk, it appears the tree simply required the same restoration work as many other areas of the park this year. In particular, much of the wood in the area of Thunder Mesa at the entrance to Frontierland was completely replaced back in September. Here, Disney will be ensuring the tree's elevated walkways remain safe to explore, as well as fresh and lived-in.
With a lack of funds and the climate being frequently cold and damp, Disneyland Paris hasn't kept up as well as it should with treating and replacing these more natural elements of the park. Hopefully the large financial investment in the park's "assets" this year will be the start of a new era.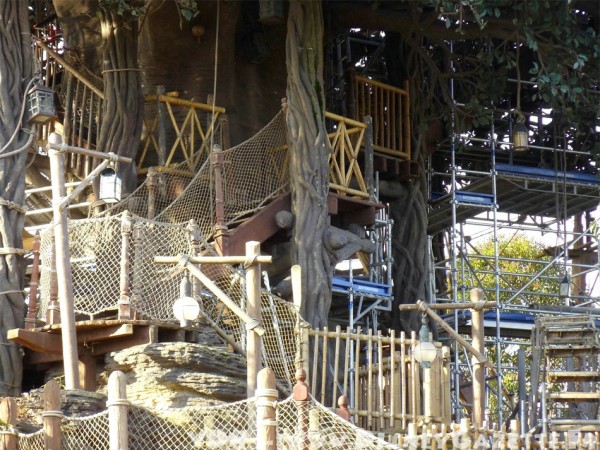 One thing we would dearly love to see for the Swiss Family Treehouse is a full replacement of its artificial vinyl leaves. Where it should be thick and green with 300,000 leaves, the branches now instead look somewhat wintry and windswept as leaves have gradually fallen off over the past 20 years. How Disney could go about re-attaching them is anyone's guess, as they were originally stuck in place to the branches at ground level (see this fascinating video). It'd surely be an arduous and expensive process, but would certainly make guests appreciate all the more this not-so-hidden gem. (As would a long-dreamed-of reinstatement of the tree's ingenious fresh water plumbing system.)
So while it may not be as luscious as it could on top, La Cabane will at least look a far fresher home for the Robinsons on the inside when it officially reopens on 17th December.