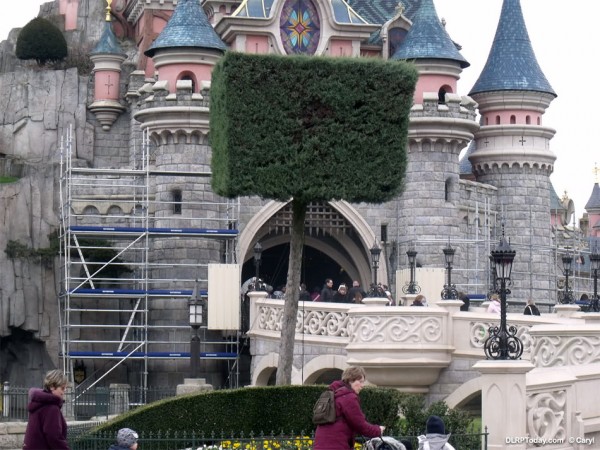 Just a couple of days ago we were excited to see the first fresh paint being tested on the grey walls of Sleeping Beauty Castle, with just a modest construction of scaffolding on the walkway beneath the fairytale landmark's drawbridge. Fast forward a few days and the photo above sent in to DLRP Today by Caryl, shows rapid progress with preparation for the full-scale refurbishment ahead as scaffolding begins to climb around the castle walls on both sides of the bridge (which was fully refurbished last year).
Think that shows big things are ahead? Well just take a look a the latest progress yesterday, with scaffolding decks now wrapped right across the front of Le Château de la Belle au Bois Dormant, covering the majority of its stone walls…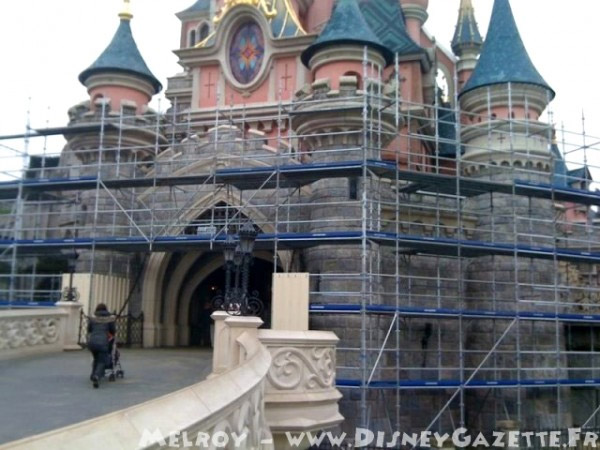 Now we have to wait and see how this breach on the fairytale kingdom is to be covered up. A huge "bache" tarpaulin covering with a photo-realistic image of the castle printed onto it seems the most likely option, having been used for recent castle refurbishments at the other Disney parks (notably Magic Kingdom), as well as at Disney Studio 1 and on less important structures at Disneyland Paris. Though the refurbishment was apparently due to begin late last year or early in January, it was most recently stated to last from March to September, so seeing this amount of scaffolding this soon is quite a surprise.