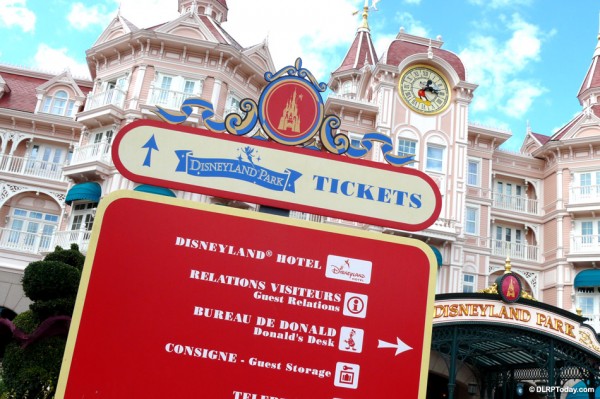 Notes from a Shareholders roundtable meeting at Disney's Hotel New York back in December suggest some changes to the Passeport Annuel programme could be on the way this year. The first has already taken place: the launch of an official fourth ticket, the Passeport Annuel Classic. Primarily given away free via other companies a promotional tool (to "convert a new population to annual passports", as the roundtable notes put it), the ticket offers 277 days of park access within each year (that's 88 blockout dates). Where this gets interesting is that the ticket reportedly went on general sale at the parks on 17th December, costing €98. That's just one Euro less than the freely-available Passeport Annuel Francilien, which offers a full 300 days in the parks. Confused? Though the Classic has yet to be listed on the official AP pages, the price point and the offering would make it a likely successor to the Francilien, whose name causes confusion (it's not just for those in the Paris region) and whose advantages are arguably just a little too generous for the price, compared to regular tickets. Discontinuing the Francilien in favour of the Classic would even-up the benefits of each pass. We'll see…
At the other end of the scale, the Passeport Annuel Dream already gives holders some fantastic discounts and year-round access, but has jumped in price a little lately to €199 after several years at €179. This is still a real steal compared to similar APs at other Disney resorts — and even Paris' own top-level tickets in years gone by — but the roundtable notes (PDF) reveal that an even more "prestigious" and interestingly, "personalised", pass could be developed, offering even more benefits. What benefits those may be exactly is unclear — the return of that Disney Hotel parking privilege is unlikely.

Finally, and what could be the biggest change of all: subscription payments. At the moment, each Annual Passport is sold as a one-off ticket, and though the holder should receive an offer to renew at the end of their pass, it's a considerable hassle for the customer (particularly if you don't speak French or don't live in France) and must present quite a drop-off of potential on-going customers for Disney. The meeting notes state that a number of improvements are being studied regarding customer relations, which could lead to "development of tailor-made offers, loyalty programmes and payment by monthly instalments".
This same idea is currently being discussed quite actively for the American parks, and would mean that an Annual Passport effectively becomes an open-ended ticket to the parks, paid directly from your bank account each month with no need to queue at the Passeport Annuel Bureau each year or send off any renewal forms. Presumably passholders would still need to pay for, say, their first 12 months up-front or be locked into something resembling a phone contract, but in the long term this would surely be very popular for most frequent visitors and fans. Your thoughts, passholders?