Last week, the scaffolding and tarpaulin covering finally expanded to cover the large number "1" at the top of the façade, as the first workers since July 2008 were spotted up high: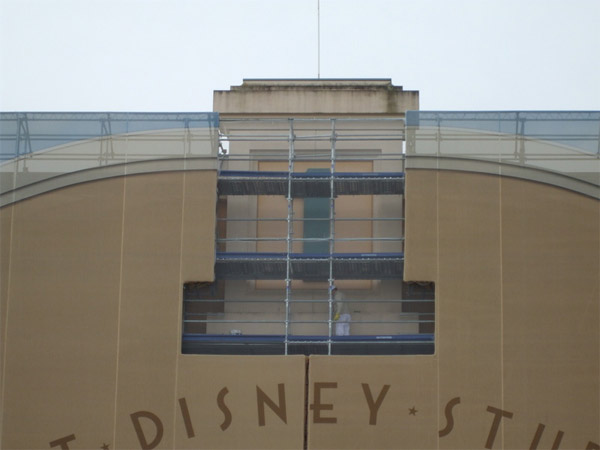 Photo: Jake Sully, Disney Gazette forum
This weekend just gone, the first results — all the dirt and grime gone from the top of the number plaque, newly repainted at last: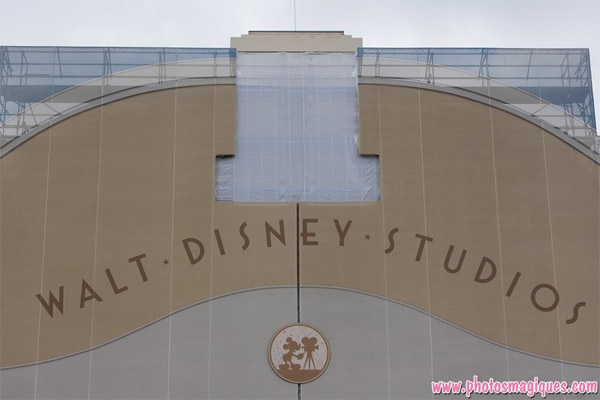 No photoshop, no joke — real progress at last! Congratulations, Disneyland Paris!
It's been a long journey. After a master-stroke of corporate thinking between Euro Disney SCA and what was then Buena Vista International (Walt Disney Studios Motion Pictures Group) in 2005, the film distribution arm of Disney apparently paid its theme park operator cousin a nominal fee to use the front of Disney Studio 1 as a huge advertising billboard for new movie Chicken Little.
Eight months later, in April 2006, they continued their "sponsorship" with a new billboard, extending even further up the building, for Pixar's Cars. Twenty-seven months — over two years — later, it was still there. With fans becoming exasperated, hope came in August 2008 when Studio 1 finally returned to its natural state… well, almost.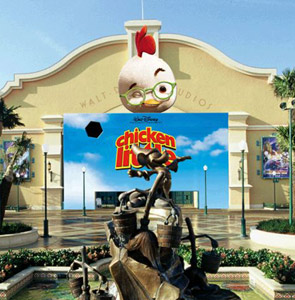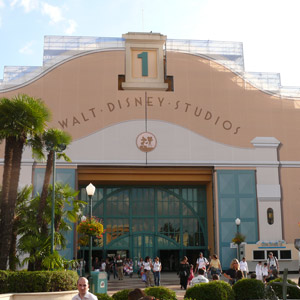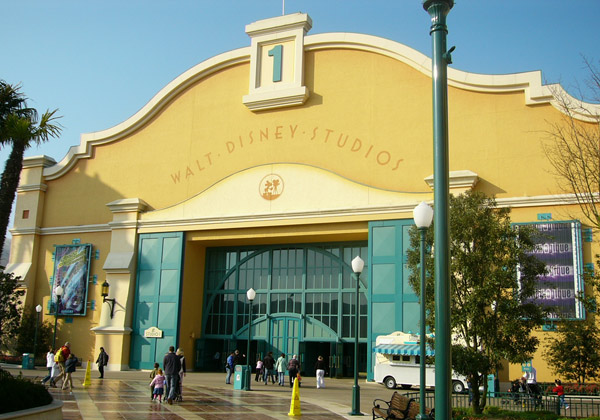 Cars on an official photo (2007), Chicken Little concept (2005),
Refurbishment cover (2008), Original façade (2004)
• 16th March 2002 – 8th August 2005: Original, uncovered façade (41 months)

• 8th August 2005 – 4th April 2006: Chicken Little advertisement (8 months)

• 4th April 2006 – 1st July 2008: Cars advertisement (27 months)

• 11th July – Today: Refurbishment covering (20 months)

Total time covered by billboards/scaffolding: 55 months
It was given a complete covering of scaffolding from end-to-end and one of the look-a-like tarpaulin masks we're now used to seeing on refurbishments. Let the clean-up begin! But then — more trouble. Owing to what the resort would only term "technical difficulties", the refurbishment covering stayed in place for month, after month, after month. Inside word suggested the project to repaint and uncover the façade was hit either by legal troubles with contractors or safety worries from departments within the resort.
And so we waited, until now, when it looks like our park landmark might finally be in preparation for its first close-up since July 2005. Only opened in 2002, we've known this tribute to Walt Disney's Hyperion Studios for longer with scaffolding attached than without.
It's time to put that right.
Photos 1-2: as credited; Other Photos: DLRP Today.com/Disney
Thanks to mouetto, DCP for exact billboard dates.